Stating that the unilateral appointment of Justice James Patterson as Gecom Chairman is an indication of government's plan to rig the 2020 general elections, Opposition Leader Bharrat Jagdeo yesterday made known his plans to launch campaigns locally and abroad to thwart any such an occurrence.
"It is clear to me that they are planning to rig the elections. It's as clear as day to me …and we are not going to disappear because that is their intention…We will fight that intent to rig with even more vigour and we will do all that we have to do to block it", he said during a press conference yesterday.
Patterson was sworn in last Thursday, two and a half hours after President David Granger met with Jagdeo to inform him of the rejection of the third list and his selection of Patterson.
The unilateral appointment of the 84-year-old retired judge, which both Granger and the Attorney General has sought to justify, has seen widespread condemnation from civil society.
Addressing the issue at his Church Street office yesterday, Jagdeo announced that the party will alert the diaspora about the situation in Guyana as it is very influential and has a lot of connections. He said that aside from briefing the international community locally, the party plans to visit Ottawa, Brussels, Wash-ington and London to sensitise the governments there about "the threat to our democracy".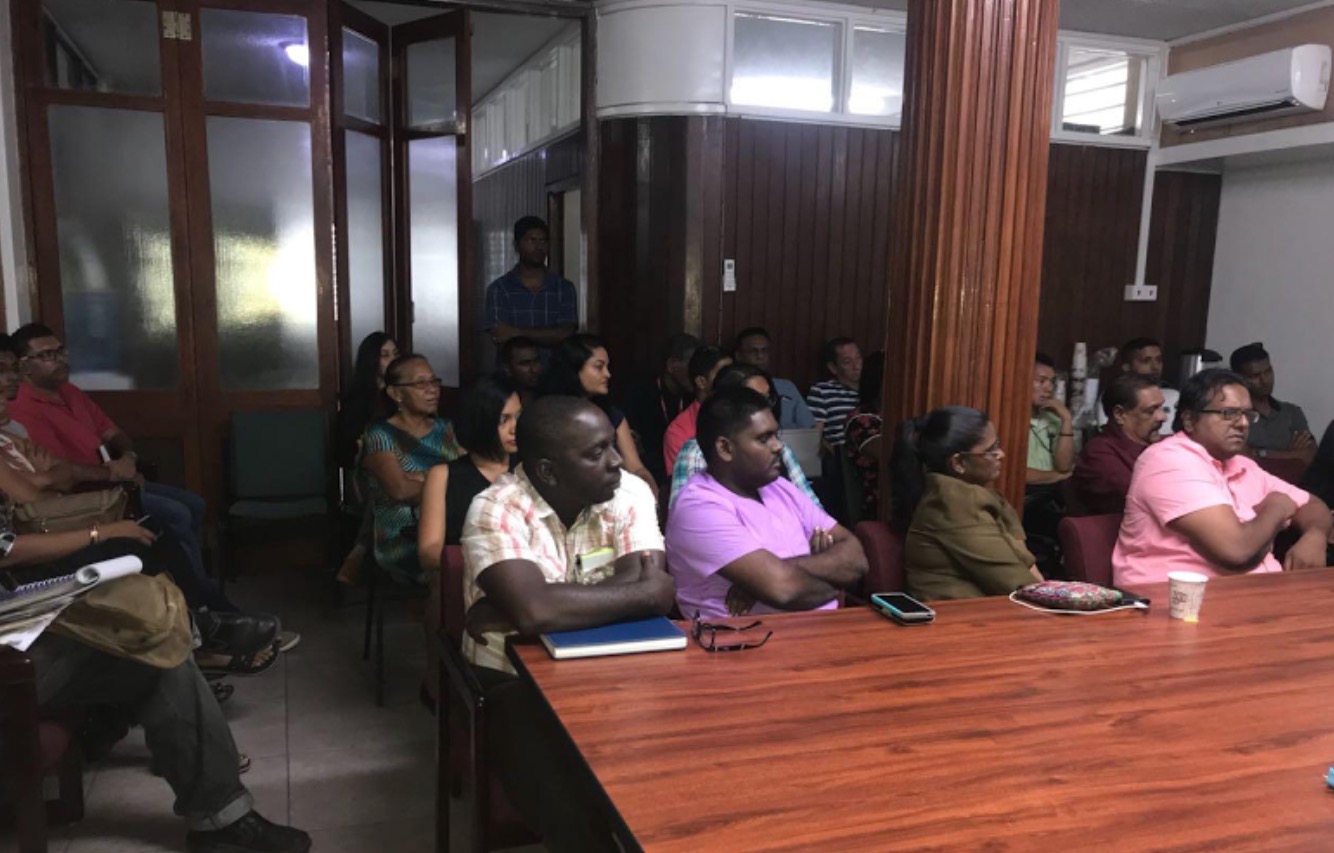 He said that there will be a heightened awareness about government's suspected plan and the party is in the process of putting together a group that will look at all the ways that government can rig the elections and "start blocking them. We have already been doing some of this work in the PPP but now given this salvo that has been fired by Granger at our democracy …it brings heightened awareness to all that we are doing".
Jagdeo said that the party has big concerns about the integrity of Gecom's database and the potential tampering with birth certificates.
"We are training our polling agents already because we need strong polling agents to block the stealing at the level of the polling places", he said while urging people not to lose hope but to stand together with the party to help protect the country's democracy.
"This is not about who wins the next elections. We are not asking for international support for the PPP. We're asking for the values that any democracy will have to be upheld and what kind of country we want to nurture and bring up our children", Jagdeo stressed.
PPP MP Gail Teixeira is making arrangements to meet representatives of the ABC countries here sometime next week.
At a press conference held an hour before Patterson took the oath of office on Thursday, Jagdeo announced the party's intention to pull back from co-operation with the APNU+AFC government. He specifically mentioned the withdrawing from border committee meetings.
"We will be pushing for serious non-cooperation against this government, on anything. They have just invited us to participate in some border committee because of an unravelling. Last week. I took a decision that we will participate but we will not participate. I am telling you just to give you an idea that we are not going to participate in any of that," he had said.
Cautious
Yesterday Jagdeo was cautious in addressing the issue but explained that the party will separate itself from the technical issues associated with the committee as its presence would not have any impact on decisions.
He made it clear that the PPP supports the government fully in its efforts to safeguard the country's territorial integrity. "We have one view on this matter, that every inch of the 83, 000 square miles belong to our people and we in the PPP will defend the integrity of our state and our borders as vigorously as anyone else as we have shown in history", he said, adding that the party will not participate in some of the "discussions that are taking place where we may not be part of determining the approach taken but we are invited to sit in".
According to Jagdeo, the party will uphold its constitutional responsibilities to the people at all levels including Gecom. He stressed that the party's representatives will participate in matters related to the commission over fears that if they don't the decisions made can affect the future of democracy in Guyana.
He stated that the party will participate in all activities where it "can expose the wrongdoings and corruption of the government. So we will go to the parliament in the open session. We may not participate in all of the committees but in the plenary sessions we will be there to prevent and to expose wrongdoings…", he said.
Jagdeo said that the party intends to participate in bodies where "we can advocate for benefits for people and we can defend their interests. Our whole purpose is to make sure that people of every political persuasion even if they belong to APNU…every race, every religion".
According to him, supporters will now shun all government-related visits. "When Granger goes out now to the regions he will be faced with protest action exposing the illegalities that he has committed", he said.
Jagdeo stated too that he will continue to engage persons during countrywide outreaches.
The Opposition Leader informed that last Thursday he received notice to attend a meeting with the President slated for 6 pm  at State House and he complied with the request.
He arrived as scheduled, along with his party's Legal Advisor and executive Anil Nandlall and also executive Irfaan Ali and was ushered  into the meeting place where Granger had by his side Minister of State Joseph Harmon and Alliance for Change Leader Raphael Trotman.
Jagdeo said that the meeting lasted a mere five minutes as the President told him that it was called to notify him that his third and latest list of nominees for the post of GECOM Chairman, which he had summited in August was again rejected.
He said that the President also followed up by informing him that he had unilaterally chosen Patterson and handed him two envelopes; one containing a letter that the third list was rejected and another with Patterson's Curriculum Vitae.
On August 25, Jagdeo submitted his third list of nominees, comprising Joe Singh, a retired Guyana Defence Force Major General, who previously held the post; former long-serving magistrate Krisndat Persaud; attorneys Teni Housty and Sanjeev Datadin; pilot and biodiversity advocate Annette Arjoon-Martins; and Adventist pastor and agriculturalist Onesi La Fleur.
Jagdeo yesterday insisted that the persons on this list as well as the other two are aptly qualified for the reason and he singled out a few including Housty. When asked about the decision of Singh and attorney Christopher Ram whose name was on the first list to resign from their government related posts, Jagdeo said that anyone would be uncomfortable with their character being publicly tarnished. He reiterated the difficulty he had in choosing the eighteen names he submitted to Granger.
Singh who was highly favoured for the GECOM post, tendered his resignation on Tuesday while Ram did so yesterday.
Around the Web