A labourer from the Uitvlugt/Meten-Meer-Zorg Neighbourhood Democratic Council (NDC) died after a car collided with him on the Zeeburg Public Road last night.
Commander of 'D' Division, Leslie James, confirmed with Stabroek News last night that the accident occurred around 9:15pm.
He explained that a car, PVV 5310, was driving east along the road at a fast rate when it collided with a cyclist, 55-year-old Khemraj Latchman, who was crossing the road. Latchman was picked up by the driver and public-spirited citizens and rushed to the Cottage Hospital where he was pronounced dead on arrival.
Family members gathered at Latchman's home last night and related to Stabroek News that they were in shock and couldn't believe what had happened. They explained that while they were unaware of what exactly happened, from all indications it appeared as if he was returning home.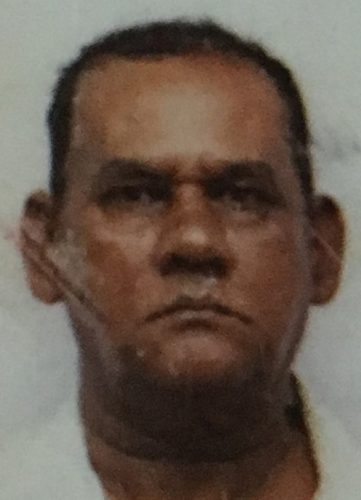 Eyewitnesses related that when they heard the impact they thought a cow  had been knocked down on the road.
"Everybody here was in the shop and when we hear it, it was loud, loud. A big knock and we thought is a cow get knock down because sometimes them things does happen but when we go outside we see is a man and not a cow but that man had to be driving real fast to knock he so hard," one eyewitness said.
When Stabroek News visited the scene, the point of impact where the car collided with Latchman was several feet away from where he landed. A pool of blood surrounded by white marker, which was placed by traffic ranks were still fresh.
"Them men always, always driving fast on this road. Since it do over like them feel is a race track and that they don't have to stop. I don't know how he [the driver] didn't see that man. Is nah like they don't have streetlights. This place bright, bright so I don't understand how he couldn't see the man," another eyewitness related.
The man explained that he was walking when he saw the car collide head-on with Latchman. "It happen fast. I can't even remember exactly what happened. I just remember hearing the impact and swinging around and seeing the man fly up in the air and then land on the ground hard," the man related.
The driver of the vehicle is currently in  police custody assisting with the investigation. According to James, a breathalyzer test was given and the results showed that he was above the legal limit.
Around the Web