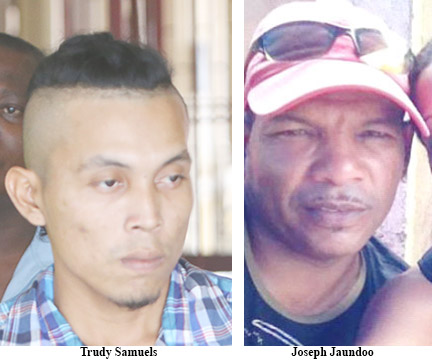 Trudy Samuels will be spending the next 18 years behind bars for last year's killing of his cousin's husband, Joseph Jaundoo, who was stabbed multiple times about his body.
Samuels, 22, told Justice Brassington Reynolds at the High Court in Georgetown that he was sorry for what he had done and sought forgiveness from his family and cousin for the death of her husband.
"I tried to get him transported to the hospital after," the man told the judge as he begged for mercy. 
Samuels inflicted the fatal stab wounds over jokes that he did not like.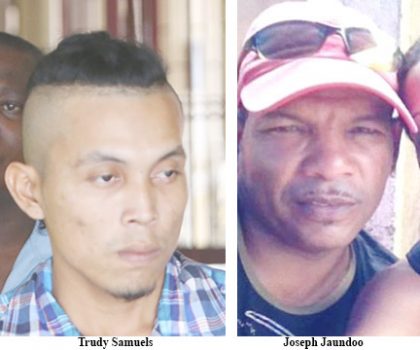 He was initially indicted for murder, but admitted guilt on the lesser count of manslaughter, accepting that on February 22, 2016, at Santa Mission, Kamuni Creek, he unlawfully killed Jaundoo, also known as 'Teddy.'
The state's case was that the men were drinking alcohol at a 'wake' house' in the community, where jokes were reportedly made. The jokes were not taken lightly by Samuels and there was an altercation between the two men.
Persons parted them, after which Jaundoo proceeded home.
However, Samuels, who was armed with a knife, subsequently followed his cousin-in-law home and stabbed him several times. Jaundoo died from loss of blood, due to a severed artery.
According to a probation report read to the court, Jaundoo's wife, who witnessed his killing on her birthday, described losing him as a "horrible" experience. She was also reported as saying that their son often appears lost and gazes in the distance.
The probation officer, who prepared and read the report, told the court that the death of Jaundoo had not only affected his children psychologically, but academically as well.
The officer said that while Samuels has shown remorse for his actions, society has laws to protect its citizens against such "senseless acts of violence," and that the court must execute its punitive duty.
Acknowledging that a wife, father and breadwinner had lost his life, Samuels' attorney, Satyesh Kissoon, said that the killing was "truly unfortunate." He noted that apart from them being relatives, Samuels and Jaundoo were also best friends.
Counsel said, too, that it was even more devastating that what should have been a celebratory evening for the wife of the deceased, whose birthday was being celebrated, ended in that tragic way it did, because judgements were impaired through the use of alcohol.
He said that the community should share some blame for the death, as many saw the two men in a scuffle, knew that they were intoxicated and waited only until half an hour after before intervening.
Sounding his client's pleas for mercy, Kissoon asked that he be given a sentence, which would afford him the opportunity of being a father to his two-year-old son. The lawyer also asked the judge to consider that Samuels had accepted culpability for what he had done.
In response, however, prosecutor Shawnettte Austin asked the court to take into account that the wife of the deceased "is still in anguish," and frequently has to comfort their four children, who repeatedly ask for their father.
The prosecutor noted, too, that while it may be "harsh," the deceased's wife no longer considers the family ties she shares with her cousin.
The judge said that it is never an easy exercise for courts to visit punishment upon persons, especially when a picture is painted of how it all could have been avoided. He described the events of the case as a tragedy. "Families have now been left traumatised by the senseless killing of their own," the judge said, before adding that if may all have been avoided had the community been more proactive.
Justice Reynolds told Samuels that punishment had to be imposed and that potential offenders have to be deterred.
The sentencing was guided by the World Health Organization's life expectancy index for men (2015), which puts the figure for Guyana at 63 years, six months. The judge noted that he would start at a midway base of 30 years, from which he deducted five years for the guilty plea, two years for the time Samuels has been incarcerated awaiting trial, and an additional five years for mitigating circumstances. As a result, Samuels was sentenced to 18 years.
The state's case was presented by Austin, in association with Lisa Cave and Tiffini Lyken.
Around the Web