Kendall Skeete was yesterday sentenced to 20 years behind bars for killing Kenneth Allen, who was stabbed multiple times while trying to save another man from a robbery.
Skeete, 38 was initially indicted for murder, but his plea to the lesser offence of manslaughter was accepted by both the court and prosecution.
As a result, Skeete accepted that on October 15th, 2008, he unlawfully killed Allen.
The state's case was presented by Prosecutor Mandel Moore.
Allen was stabbed to death during an ill-fated rescue attempt. He had been trying to stop a group of men from assaulting and robbing another man at Goed Fortuin, West Bank Demerara. After he intervened in the dispute, the attacker turned on him.
Justice James Bovell-Drakes deferred sentencing until yesterday, when a probation report was presented at the High Court in Georgetown.
At his sentencing yesterday morning, Skeete said that he was sorry for his actions and also apologised to the family of the deceased for their loss.
The court heard from the probation report that while Skeete was generally known as an easygoing person, he sometimes exhibited a violent temperament.
Probation Officer Sheanka Hodge explained that Skeete did not grow up in the most stable of circumstances, while noting that his parents separated when he was only three-years-old.
She said his father did not contribute to his upbringing, but his mother worked hard to provide for him and other siblings.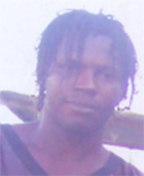 Hodge told the court that Skeete performed poorly at school and dropped out and fathered his first child when he was still a teenager. She said, too, that he had been incapable of fostering stable intimate relationships and had six children, all with different persons.
The probation officer told the court that while Skeete had expressed remorse for the killing, he should be punished for what he had done, as a strong message must be sent to society that such violence will not be condoned.
Hodge said Allen's family, who described him as a loving and jovial person, noted that his passing has been very difficult for them, especially his two children, who miss him immensely.
Attorney Pamela De Santos, who represented Skeete, begged the court to be merciful with him and asked the judge to take into account his early plea and show of remorse for what he had done.
Not diminishing the loss of life, De Santos contended that her client was defending himself from the deceased, who attacked and hit him with a hammer to the head.
Justice Bovell-Drakes said it is never an easy task when a court has to impose sentence, but noted that a strong message needed to be sent to potential offenders.
The judge said that having looked at the pathologist's report, two of the six incised wounds Allen sustained suggested that they were defensive wounds. His injuries included stab wounds to the heart and lungs.
Justice Bovell-Drakes said that after considering both the aggravating and mitigating circumstances of the case, Skeete would be sentenced to a period of imprisonment for 20 years.
Noting that 60 years is the general life expectancy for Guyanese, the judge had commenced the sentence at that base and thereafter deducting 27 years, representing Allen's age when he died. An additional five years were deducted for Skeete's plea and good behavior in prison, and a further eight years for the time he has been incarcerated, awaiting trial.
Justice Bovell-Drakes admonished the prisoner not to get involved in confrontations, to exercise self-control and to be a good example to others.
Around the Web