More than five months since 26-year-old Dinish Ramcharran died after reportedly falling from a moving truck, his mother remains convinced that there is much more to his death and as a result the police are conducting further investigations.
Ramcharran, a porter of Tabatinga, Lethem, died on May 14 after he reportedly fell from the truck along the Kumu shortcut trail, at Lethem.
The police had said that the driver was proceeding north along the trail with two other occupants in the vehicle's cab and Ramcharran perched on the roof. After driving for about a mile, he stopped and on checking discovered Ramcharran was not in the vehicle. Ramcharran was later found on the trail, motionless. He was rushed to the Lethem Hospital, where he was pronounced dead on arrival.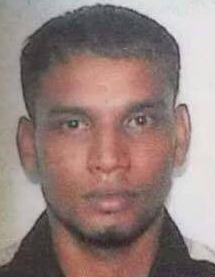 However, Waheeda Ramcharran, the mother of the dead man, told Stabroek News that after receiving information, she did her own investigation and she is now convinced that there is more to his death. "At first, I did believe the story but then I got some new information and I went out there and do my own investigation and I obtain some evidence from eyewitnesses and so and I pass that on to the police," Waheeda said.
"After this thing happen, the police did not do no proper investigation. They just say it's an accident because me son fell off the truck and that was it but… I was told my son was pushed off of the truck and another vehicle behind them run he over," she said.
She is, therefore, calling on the relevant authorities to intervene.
Contacted for a comment on the case, Commander of 'F' Division Ravindradat Budhram told Stabroek News that the police have already received legal advice and recommendations were given. "The file has been completed and we were already given advice to take certain actions," Budhram said.
While he did not go into details about the recommendations, this newspaper was told that the driver is expected to be re-arrested soon for further questioning. Following the incident, the driver was arrested but was subsequently released.
Waheeda added that she has since written several officials, including the Minister of Public Security Khemraj Ramjattan, with the information she has gathered but she has not received any responses as yet.
Budhram explained that Waheeda has provided the police with names and they have since uplifted more statements.
A post-mortem examination performed on Dinish Ramcharran's remains had revealed that he died due to multiple injuries sustained.
Waheeda recalled that on the morning of her son's death, they were having breakfast when four persons came to their house in a truck and called for him. Dinish, she said, went outside and had a conversation with the men and they subsequently left. She said later the same day one of the men returned with some friends. Upon enquiring what they needed, she said she was told that the men wanted to borrow Dinish's truck battery, which was loaned to them.
Several hours later, she said she received a call from one of the men who informed her that Dinish fell off the truck and died.
The woman said she immediately left for the hospital but when she arrived there her son's body had not yet arrived. However, she noted that after much delay in arranging an ambulance to transport Dinish to the hospital, his body was picked up. By that time he had already died.
'They had my son there long and ain't even pick he up and take he hospital. If they didn't up to something and did want save he life, they wouldn't do that. They had other vehicle around to take he hospital," she noted.
Around the Web