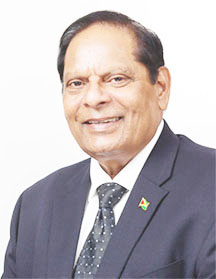 The three lists of candidates submitted by Opposition Leader Bharrat Jagdeo to President David Granger to fill the seat of the Chair of the Guyana Elections Commission (Gecom) were crafted to force him to make a particular selection, Prime Minister Moses Nagamootoo and Attorney General Basil Williams SC said on Thursday.
They made the argument during a televised interview on Thursday with the government's Department of Public Information in response to strong condemnation of Granger's unilateral decision to name retired judge James Patterson, 84, as the new Gecom Chairman.
Nagamootoo said that if one should carefully analyse Jagdeo's lists from an unbiased vantage point, they would see not only an 80-year-old nominee in Dr James Rose, who has been aligned to the PPP, on the first of the three lists but a "stacking of the deck" to frustrate Granger into choosing someone Jagdeo is comfortable with and not what is constitutional.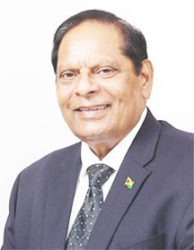 Further, he argued that Jagdeo's and his People's Progressive Party/Civic's condemnation of Granger's selection of Patterson is hypocritical and should be seen as race baiting for political gain.
"Every time you have to select a chairman of the Guyana Elections Commission, there always will be excitement, political excitement. That comes from the nature of the terrain. You have an elections commission of six members, three nominated by the president in his own deliberate judgement and three submitted by the leader of the opposition. There is always this excitement that this seventh person, the Chairperson, that has a casting vote and who has tremendous powers means everyone wanted someone that they were comfortable with. It is the same reason you would want someone with whom you are comfortable and you feel you can have some level of leverage over that, [which is why] the leader of the opposition placed in the very first list Dr James Rose," Nagamootoo said.
"I am not here dealing with names and I don't intend to get into all of that. I am dealing with politics… James Rose had been a candidate of the PPP. I had been in the PPP at a time when we were looking for someone to be the Prime Ministerial candidate for the 1990 elections, which was held in 1992. Dr James had been approached. Dr. James Rose was one of those that was approached and we indicated it to him that Dr [Cheddi] Jagan wanted him to run with him. If you came and you put James Rose, it meant that you felt that you can leverage an advantage in a list that is required by law," he argued.
He said that had Rose, who is of African descent, been chosen by the President, you would not have heard arguments now fueled by the PPP that he was old, not fit or was of a particular race.
"If you look at the other side, the president selected James Patterson. The president obviously is looking for someone in whom he has some confidence and in his competence and integrity," he said, though he reminded that from a historical perspective the selection of a Gecom Chairman has always been met with political suspicion.
However, at the point when Rose was submitted as a nominee, the president had not yet asked both retired judges Cecil Kennard and Prem Persaud to step down from the Police Complaints Authority or the Public Utilities Commission, respectively, while citing their advanced age. Both men are younger than Patterson.
Hurting
"The issue of race came in and the issue of age came in, which is unfortunate and is something which is hurting our politics and is hurting Guyana, this intervention to look at race and age. James Rose is almost 80 years (old). If President Granger had selected James Rose, the most you  would have heard people say he is an Afro-Guyanese and he is a person of immense knowledge , immense qualification… but he is almost 80 (years old)," Nagamootoo said.
"The race was brought in because when Justice James Patterson was named, appointed and sworn in, immediately you saw on Facebook the gutter proproganda that Indians have been now displaced. [Also], that Indo-Guyanese have now been given a Diwali present and darkness has stepped in, an era of the past has come back and there will be rigging of elections and there will be manipulation of the process and so on and so forth. Race was tied to racism. A racist campaign, and that is what is very hurtful, to see that this selection process had now been demeaned and brought to a level that introduced division, rancor, bitterness, fear, insecurity and politicians who are fueling this campaign over the selection of an elections commission chairperson, knowing they are hurting this nation all because they didn't get what they wanted," he added.
Williams also asserted that Jagdeo gave flawed lists to get the desired chairman he favoured.
"The lists were designed in such a way to focus the president on a particular candidate that Mr Jagdeo desired from the very first list," he said.
"Mr Jagdeo has been putting names on the list that he knows doesn't qualify under the criteria because a lot of them can be accused of being friends and so on….the president could not select a person who is the friend of the leader of the opposition a member of his party etc. Mr Jagdeo dragging out the President since December, 2016 and then he was abusing the president saying he wasn't fit and proper because he didn't submit someone from the list," he added.
And as he pointed to Guyana's constitution, Williams reminded that the president could not stray away from what is required of him by law.
"When making such a decision under Article 161, the President is empowered to do so by his own deliberate judgement and under Article 182 it is very clear that the president is not personally liable to the act he performed in execution of his function. In other words, he has immunity and is not liable in civil or criminal proceedings in the office and after he leaves the office," he said.
"After three lists that were not properly composed by the opposition leader, deliberately so, the president, as part of the process, had to resort to the proviso otherwise we would not have had a chairman of Gecom," he added.
Around the Web