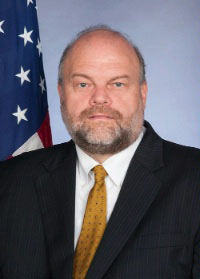 Following the contention over President David Granger's unilateral appointment of retired judge James Patterson as the Guyana Elections Commission (Gecom) chairman, United States Ambassador to Guyana Perry Holloway yesterday urged dialogue to discuss the "serious disagreement," while noting that the courts remain the best option to resolve legal disputes.
"While we urge everyone to engage in democratic dialogue to discuss differences of opinion, we stress that the Courts [are] the ultimate and best option for any legal disagreement in a functioning democracy.  That said, I think all involved agree that this matter is too important for all for it to languish in the legal system, so a quick resolution to any court challenge is necessary," Holloway said in a statement released to Stabroek News.
"I encourage all to act with dignity and respect in moving forward Guyana's democratic development," he added.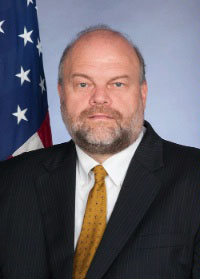 Holloway's statement follows calls by some local stakeholders for a public comment on the controversial appointment, which was made last week Thursday after Granger rejected a third list of nominees that had been submitted to him by Opposition Leader Bharrat Jagdeo. Having rejected all three lists submitted by Jagdeo as unacceptable, Granger proceeded to appoint Patterson while invoking the proviso to Article 161(2). Jagdeo has maintained that the president acted illegally.
In his statement, Holloway noted that the US Embassy has been closely following the recent developments surrounding the appointment and that many sectors in Guyana have asked for him to comment using the freedom of expression offered by the constitution of Guyana.
"I recognize that as in any democracy, the Constitution of the Co-operative Republic of Guyana is the supreme law.  I am confident that everyone, in spite of personal or political differences, wants to uphold this foundational document and to act within it, and I encourage everyone to do so," he said, while acknowledging the "serious disagreement" over the appointment.
Holloway's statement echoes sentiments voiced by both UK High Commissioner Greg Quinn.
Last Saturday, Quinn told this newspaper that the impasse over the appointment could be addressed by the courts but noted that a decision must be rendered speedily if this avenue is taken.
"As we all agree the constitution should be paramount. Everything must flow from it. The President and his supporters say he has acted within the constitution, the Leader of the Opposition and his supporters say he hasn't. "So we are at an impasse. The only way through that could be to go via the courts. But if that course is followed then the court must decide quickly. Unlike in the case of the 2015 elections petition which is still languishing. "Speaking personally I think it would have been better for the president to have chosen a name from one of the 3 lists. But he clearly felt that was not possible," Quinn had said.
Additionally, Canadian High Commissioner Lilian Chatterjee told Stabroek News in a brief comment on Thursday that Canada believes that democratic norms and the rule of law should be respected.
Around the Web