Wil Campbell always knew he wanted to help humanity and he thought the best way to do this was to become a medical doctor but as fate would have it he became a teacher and the service he provided to the most vulnerable (children) propelled him into finding his niche – professional counselling.
Guyana does not allow him to make a living from that profession but that did not stop Campbell from founding and managing Solutions Training Consultancy and Counselling Services. Such is his passion, that he provides these services while holding down a full-time job as a lecturer at the University of Guyana. He is also a family man, with a wife and two daughters.
Campbell holds a Masters in psychology and even though he conducts general counselling, he focuses on marriage and family.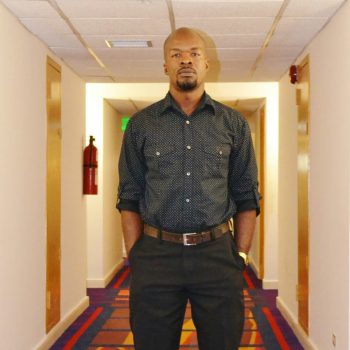 "For all of my professional life I have been teaching; it is not something I wanted to do. I ran from it as much as possible but every job opening that was available was teaching," Campbell told the Sunday Stabroek in a sit down. He is of the firm view that he was created to help people and has concluded that his purpose is to help people to live better lives.
"That passion is what keeps me going [and] then when you see people come from a mess for want of a better word and then they become somebody who is in control of their lives, that is motivation, that motivates me," Campbell said.
The children he taught would go to him and share their struggles and while he attempted to help, Campbell said it always got to a point where he no longer could because he did not have the necessary skills. It was at one of those junctures that he decided to abandon his dream of becoming a medical doctor and switch to psychology, because the opportunity arose and he knew it would equip him to help his students.
He was more emboldened that he had made the right decision when, on the advice of his wife, he counselled a couple encountering some difficulties and after the process their lives changed.
"But the more I got into psychology, the more I realized that it was in line with the kind of person who I was…," Campbell said revealing that at that very time there appeared to be a "blow-up" of suicides and domestic violence in Guyana.
At that time Campbell and his family lived outside of Guyana and he reasoned that his skills were needed back home; this was one of the reasons he resettled in his homeland.
But he quickly realized that while there is a big need for psychological services and counselling the need was not recognised and where it is recognised it is not understood, forcing him to fall back on his teaching career; the first job offered was as principal of a private school.
According to Campbell, Guyana is "way too slowly" moving in the direction where it is understood that mental health goes way beyond insane persons on the streets.
"It is slowly normalizing where people go to a psychologist, go to a counsellor without the stigma," he said.
For him, the country's policy makers do not have an understanding of what is required and what the field entails and sometimes when they say they got counselling for a person was in fact a pastor to pray for the affected.
"I think we need to get right at that level and I believe that the Mental Health Unit at the Ministry of Public Health I think that is part of their mandate and they are slowly making inroads and there are a couple of other practitioners who would do talks here and there and do seminars and bring awareness to what this is all about," he said.
Campbell said he is seeking to train people in this area as there is a need for more persons to provide the service and it was one of the reasons he accepted the position to lecture in the area of psychology at UG. He said the university is about to launch an on-campus psychology programme but at present he lecturers in the online programme as well as in the education faculty in education psychology.
Can live with them
Even as he taught however, persons sought him out for his counselling skills which he did in his spare time. About a year and a half ago he resigned his position as principal to focus entirely on his counselling career, or so he thought.
Campbell, like others have said in the past, pointed out that while the service he provides is needed, persons are not prepared to pay for same. He noted that when it comes to psychology and emotional problems people can live with them as the human mind files them away; persons can survive without addressing the trauma that is causing them emotional distress.
"And so, a lot of people go through life without realizing how much they are losing because they are not dealing with the psychological issues. To have to take out money and pay for that is difficult; if you are sick, you have to go to doctor because you want to feel well," he stated.
But many do not realise that maybe their inability to succeed is tied to something that happened to them in the past and on the other hand some have accessed counselling from pastors and family members and they conclude that counselling is advice given. As such they do not appreciate that kind of skill that is required when they go into a counsellor's office to access that service and as such they do not want to pay.
Campbell said persons also do not understand the effort that is needed when counselling and additionally they don't realise that they spend much more at times for lawyers, doctors and on entertainment trying to deal with issues that a counsellor could assist them.
"There is this very close mind-body connection and in fact many of the lifestyle diseases are tied to stress, inclusive of cancer, diabetes and cardiovascular ailments, a lot of these are triggered by stress and if you don't deal with that stress it suppresses your immunity and your body is not able to fight off some of these diseases," Campbell pointed out.
He said one of the single most prevalent childhood traumas he has found from his experience is sexual trauma and often times when people are struggling with this it impedes their progress and creates other problems for them.
"A lot of people are depressed and suicidal and this can be linked to traumatic childhood experiences," he noted.
Another issue has to do with relations as according to Campbell people never learn how to deal with conflicts and differences and as such it creates problems particularly in marriages as persons are struggling with self-esteem and self-worth issues and this can translate into debilitating challenges. These can also translate into real mental illness, Campbell warned.
He encouraged that there is nothing wrong with seeking psychological help from a professional "in fact there is everything right with this."
And even though people don't see the need to pay for the services provided by Campbell he confessed that in recent months he has gotten more clients than he can humanly handle in the time slot he has assigned to his office.
"I think the word has gotten around that people can get help here and I don't have the time because I have another job," Campbell said. He only has one counselling day and that is Tuesday and at present he has more clients than he can handle based on his schedule.
Most of his clients see him for eight weeks at one session a week and at the end of this time they are ready to move on while some may decide to do so before that period expires. Some people, after one session, decide not to return since according to Campbell counselling forces persons to deal with issues they may want to forget and it is difficult for some persons to go through the process.
And then on other hand there are clients he has to chase as some become dependent, others want friendship and others are just afraid to move off on their own. There are a few who want to dictate how they should be helped and Campbell is forced to let those go and while initially he felt like a failure he has learnt how to work through it.
He is mindful of not allowing clients to becoming too dependent because he is aware that he has to be in the business of self-care or he would suffer from empathy fatigue which can be debilitating.
It is not an easy road to walk. Campbell shared that some days when he has four or five clients at the end of that day he feels "like someone has literally beaten me up."
Persons in Campbell field are forced to employ some techniques to protect themselves and one of the first is not taking the stress home; it is psychologically draining.
"You walk a thin line between connecting with people but not letting their challenges become yours," Campbell said admitting that initially he allowed clients to call him at home but he has since stopped as it takes him away from his family time; he would spend hours on the phone helping persons to deal with crises.
"I was destroying myself, so I had to stop," he admitted.
Around the Web