Two men were last night captured by police in the Diamond Housing Scheme, East Bank Demerara after they allegedly tried to hijack car from a taxi driver.
Stabroek News gathered that at around 7.30 pm a taxi driver Tyrone (only name given) of Platinum taxi base, picked up two men on the Diamond access road. They told him they were going to 6th Avenue Diamond.
After arriving at the destination, one of the men who was sitting in the front passenger seat pulled out a gun and pointed it at the driver. At this point the driver jumped out of the car and ran  to the back. He told the men his day's earnings were in the car and they could have it. The would-be carjacker then fired a shot and the taxi driver who is a licensed firearm holder fired back at them.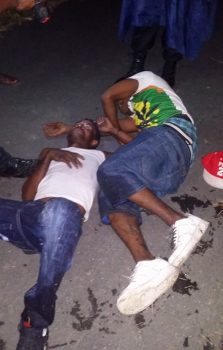 After coming under fire, the bandits aborted their mission and ran through a vacant lot that is filled with weeds.
The police were alerted and quickly responded and a search was launched.
One resident who assisted in the search told this newspaper the men tried to escape through an alley behind the street where the shooting occurred.
After spending sometimes searching the men were spotted behind a home. The woman who saw them sounded an alarm and the men were captured by the police. At the scene, gunshots rang out but it is unclear if the shots came from the police or the would-be carjackers.
A resident called on land owners to attend to their lands since they have been overtaken by weeds and criminals use that to their advantage.
Around the Web