Five gunmen stormed a Number 65 Village, Corentyne beer garden on Sunday evening and carted off a total of $1 million in cash.
Over 20 people were present in the beer garden when the five men, who were reportedly armed with high-powered weapons and wore masks and camouflage clothing, invaded the shop.
Stabroek News was told that the bandits ordered all of the persons in the beer garden to lay on the ground and then emptied their pockets.
One of the victims told this newspaper that the gunmen also carted away all of the cash that was present on the different tables where the patrons had been playing cards.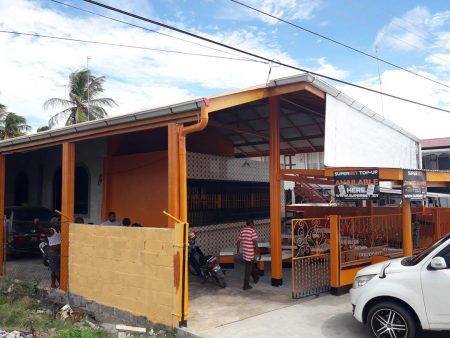 Krisendatt Hemnauth, 60, who operates the beer garden at Lot 11 A Number 65 Village, said the attack occurred around 7.30 pm. He explained that there is a gate at the back that he would secure at a certain time but he said he did not do so. "…It had some people in front here. As soon as them lef, all of a sudden me see four men at the gate and them push through the gun through the grill and say 'Everybody on them belly' and them walk in and pump a shot in the air and everybody gone down on the ground," he related.
"Them get AK-47 and shotgun. All five had guns," he said. "Four of them come in first and one was watching out and then he come in," he further noted.
Hemnauth stated that the second perpetrator who entered the building walked straight to where he was standing and dealt him a blow with a gun to his head. "I turn around back and he knock me again same place and say, 'You like see face na?'" he added.
"Them rob everybody, run through them pocket, gone with phones and them money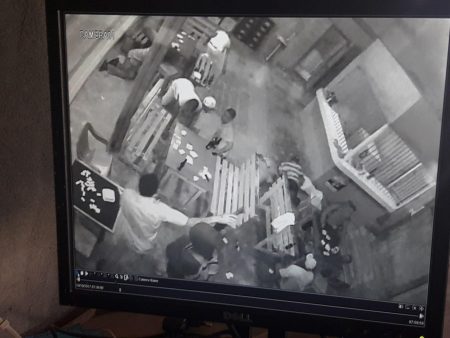 on the table," he said.
Hemnauth's 21-year-old son was also present in the shop and he suffered two "kicks" from one of the perpetrators, leaving the owners with the belief that one of the bandits may be known to them. "Me and he alone get licks, them know exactly that he (is) me son," the man said.
Lutchman (only name), a contractor from Skeldon who was present during the robbery, said, "We were  playing games and drinking when all of a sudden the guys come and I thought was police and then they fire a shot up in the air and say everybody on the ground." He said that he had some $45,000 on the table. "I had money in my pocket but they didn't check. I'm the only person they didn't check and the other guy that them suspect," he added.
The man related that the ordeal lasted for some 10 minutes and the bandits didn't say much to each other or the patrons either.
According to Hemnauth, the bandits also stole $30,000 from him and over $100,000 from his son. He said, the men also searched the apartment adjoining the shop but after they did not find much, they made good their escape.
The bandits reportedly ran across the road into the backdam. However, a resident of the area suspects that the men later ran through his chicken pen and then to the public road, where they may have had their transportation waiting.
Meanwhile, Hemnauth suspects that a customer, who resides a few villages away and was present during the robbery, may have had a hand in it. "He run and push way one man gun and them na do he [nothing] and everybody did deh on the ground flat and only he stand up. Then when he left, one car just stop and collect he, he na stop none car," he said. "In the camera, all you seeing everybody deh flat and them man get them AK and na do he nothing, them na even touch he," he added.
According to Hemnauth, the customer visited his shop some two weeks ago then returned on Sunday evening.
Hemnauth further stated that such attacks are bad for business. "People will be scared to come here now. I took a loan to assist me with building this place and I'm selling to pay that loan, this will affect me," he noted.
Police have launched an investigation. Up to press time yesterday, no one had been arrested, although a number of persons were questioned.
The beer garden
Around the Web