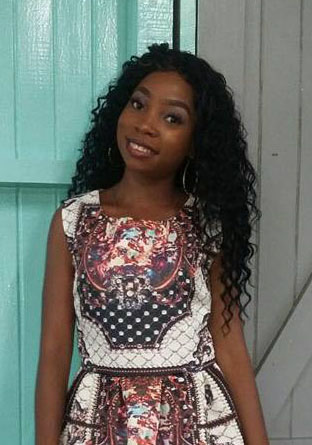 A 22-year-old Duncan Street, Bel Air man is currently being questioned by police in connection with the discovery of teacher Kescia Branche, who was found unconscious on the side of the road in the vicinity of Princes Street and Louisa Row, Georgetown, on Sunday morning.
Police spokesman Shivpersaud Bacchus last night confirmed that the man was taken into custody yesterday.
Branche, 22, remained hospitalised yesterday and her condition was reported to be deteriorating based on a doctor's assessment.
Last night, her father, Alfred Branche, told this newspaper that she remains on the life support machine in the Intensive Care Unit at the Georgetown Public Hospital. "She hasn't shown any improvement and the doctors are trying their best and doing what they can but her condition is deteriorating but we are hoping that she pulls through," the distraught father explained.
He indicated that police at the Alberttown Police Station are currently conducting investigations and several persons who had seen his daughter on Saturday night have come forward and provided the police with information to aid with their investigations.
Branche, a mother of one, of Cummings Lodge, East Coast Demerara, and a teacher of the Richard Ishmael Secondary, is nursing head injuries and a broken foot. The doctor told her family that the head injuries she suffered appeared to be consistent with blows to the head.
"We don't know what happened but we have our suspicious. It had to be someone took her there because she does not live in that direction. We don't know if she went willingly… but it looks as if she was in an altercation with someone," the father told Stabroek News on Sunday.
Branche was last seen at a local night spot on Saturday night. Her family only became aware of the tragedy at around 7 on Sunday morning when they received a telephone call informing them that she being taken to the hospital in an unconscious state.
The family is asking persons to contact the police or them on telephone numbers: 592-644-3857, 592-677-8733 if they have any information that can provide clarity on what transpired.
Around the Web