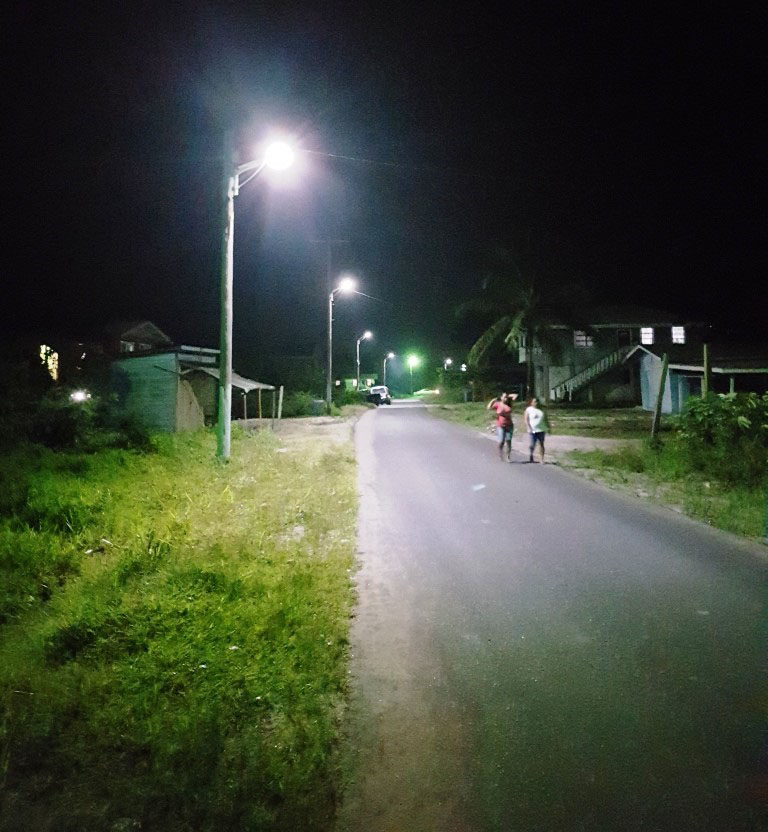 The Guyana Energy Agency (GEA) recently installed 20 integrated 80W solar powered Light Emitting Diode (LED) street lights in Agatash Village, Bartica.
According to a GEA press release, the street lights which use renewable energy from the sun to charge their batteries, provide lighting at nights using energy efficient LED lights.
The lights are controlled by a light sensitive circuit to switch the lights on in the evening and off at dawn. As part of the energy conservation features of this initiative, the technology dims the light by 50% when motion is not detected and returns to 100% brightness when motion is detected, the release stated. One advantage of these systems, the release said, is that they are not powered by the utility, thereby avoiding the use of fossil-based energy from the grid and the associated costs.
According to the release, this project, financed by the Government of Guyana, was completed at a cost of $3.97 million, translating to a unit cost of $198,500. Based on the existing Street Lights Tariff, the 20 solar powered street lights will result in annual energy savings of about 7,008 kWh, annual cost savings of about $350,400 and associated environmental benefits. The computed simple payback when compared to a similar installation using utility powered 80W LED lamps is Six years.
The installation of solar powered street lights in Agatash is part of the Government of Guyana's Green Initiative, of which the main objectives are to create a climate resistant economy and to establish a green pathway which will result in reducing the overall carbon footprint.
Around the Web