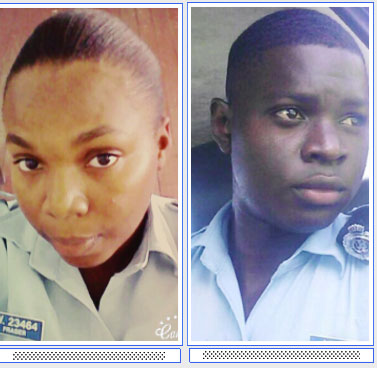 Constable Shanice Fraser, who was shot by her fiancé and fellow colleague Constable Clement Cockfield before he took his own life, is showing signs of recovery, according to Commander of 'D' Division Leslie James.
James last night told this newspaper that he had visited the injured officer at the Georgetown Public Hospital's Intensive Care Unit and was able to briefly interact with her. He said based on a doctor's report, Fraser is "on the road to recovery."
According to the commander, he is optimistic that she will be able to fully recover. He noted that no statement was given by the constable and he added that the police are awaiting for her to talk about the shooting when she is in a much better condition. Cockfield shot Fraser several times on Tuesday night before turning the gun on himself.
The shooting occurred just round 10.30 in the compound of the La Grange Police Station.
Fraser, of 28 Middle Road, Pouderoyen, West Bank Demerara, had just completed her duties, while Cockfield, of 114 Friendship, East Coast Demerara, had just reported for patrol duty, for which he uplifted a service revolver with six rounds.
The police, in a statement, said that Fraser, 21, and Cockfield, 22, were last seen on the stairway of the station, a short time after which loud explosions were heard and Fraser came running down the stairs into the compound. She was at that time observed by her colleagues to have been bleeding profusely.
Asked why the couple was allowed to work at the same station, James explained that the couple kept their relationship hidden from their colleagues and superiors. He explained further that whenever the senior ranks are knowledgeable of a relationship between two officers, they would have them work at different stations.
Attempts were made by ranks on duty to render assistance to the injured Fraser. However, Cockfield pursued her and continued to discharge rounds in her direction, causing her to continue to run before subsequently collapsing in the compound.
Stabroek News was told that efforts made by the ranks to subdue Cockfield proved futile and he turned the gun on himself and delivered a fatal shot. He was pronounced dead on arrival at the West Demerara Regional Hospital.
Around the Web