Just days before he is due to undergo surgery on one of his eyes, acid attack victim Kellon King was arrested yesterday by police, who claimed that an arrest warrant was out for him.
Members of King's family say they have been told that the warrant was based on a criminal complaint of assault brought by his ex-girlfriend, Lisa Fraser, who has been charged with carrying out the acid attack on him.
King suffered injuries to the right side of his face, including his right eye, and to his right arm as a result of the attack, which took place on September 2, at Ruimveldt, where the couple previously lived together.
King is expected to do a blood test done on Sunday and, pending the results, undergo surgery on Monday.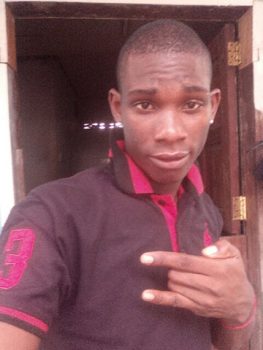 However, yesterday evening family members were frantic when police invaded their home and told King that an arrest warrant was out for him.
Relatives told Stabroek News that when the police arrived at their home, they did not read the warrant to King but told him that he would have to go into custody. Certain officers, the relatives alleged, also began to assault King, despite his complaints that his injuries weren't properly healed.
Stabroek News subsequently observed that King was seated handcuffed to a bench at the East Ruimveldt Police Outpost.
His relatives suggested that he had been met with abuse from police officers because Fraser has a relative in the force.
Despite his condition, King had been attending all the hearings related to the ongoing proceedings against Fraser.
It has been alleged that Fraser allegedly went to the house that she once shared with King, and saw another woman in the apartment, leading her to confront him.
It is alleged that Fraser subsequently retrieved a bottle containing acid that had been bought while she and King were together, poured the substance into a cup and doused the man, resulting in injuries to his head, face and both hands. Fraser has pleaded not guilty.
The case was called before Chief Magistrate Ann McLennan yesterday, when statements were served and the matter transferred to Magistrate Fabayo Azore. King was present. The matter is due to be called before Magistrate Azore on December 15.
Around the Web