The University of Guyana's Turkeyen Campus yesterday sent its largest graduating class into the world.
The administration, led by Vice-Chancellor Professor Ivelaw Griffith chose to host two convocation ceremonies—at 10 am at the National Cultural Centre and at 4.30 pm at the National Exhibition Centre at Sophia— to better accommodate the 2,165 graduates. The unprecedented move made the 2017 convocation ceremony memorable, as the memories of those who walked the stage in the evening and their families will include four hours of standing in a cramped humid space at the Sophia ceremony.
Some family members will remember unnerving encounters with university ushers who ran out of patience before the venue ran out of seats. Some may also recall how gratifying it was to watch their loved ones graduate while they peered through the security grill covering the windows.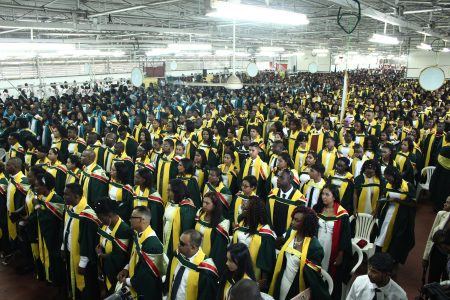 One graduate took to Facebook to bemoan her choice to attend the ceremony at all. She noted that her grandparents, who travelled from Canada to see her collect her degree, had to leave when they ended up stuck outside the venue, unable to hear or see.
"What's the point? You can't hear, you can't see. What are you celebrating?" she asked.
The ceremony was held at the auditorium of the Sophia Exhibition Centre after a week of inclement weather convinced the university administration that the Turkeyen Tarmac might not be best suited. Consequently, it was announced on Thursday that the 1,386 students graduating from the faculties of Education and Humanities, Health Sciences, and Social Sciences would be accommodated at Sophia.
The spaced, however, was as another student posted, "woefully inadequate." As a consequence many left before the charge was delivered by Dr Mahendra Carpen.
Around the Web