New Amsterdam has a new mayor after Kirt Wynter recently resigned from the post.
His former deputy, Winifred Haywood, a long serving council member, was elected on October 5 as the new Mayor, while businessman George Tucker was elected as Deputy Mayor.
A council official, who asked not to be named, told Stabroek News that Wynter's resignation was "sudden."
He tendered his resignation and cited family matters as his reason at a statutory meeting in September.
The official noted that there were no problems between Wynter and the council and that after he announced his decision, the other councillors thanked him for his service and wished him the best.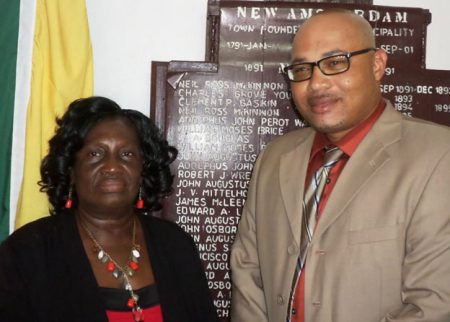 Attempts to contact Wynter for comment were unsuccessful. Calls to his mobile numbers revealed that they were no longer active, while someone who answered his landline number said he had migrated and hung up the phone.
Wynter had been elected to office after last year's historic local government elections.
At the time, he had said he would work with the other members of the council towards the restoration of the town to a beautiful and a safe place to reside.
Meanwhile, the Department of Public Information on Friday reported that Haywood was unanimously elected.
She had previously been nominated as mayor after last year's elections but declined to contest for the office, resulting in Wynter's election.
Haywood, the DPI report said, is a retired head teacher and former President of the Guyana Teachers' Union. She is also a practicing preacher at the Mission Chapel Congregational Church in New Amsterdam. It was further noted that she is a long-serving member of the New Amsterdam Town Council and the only one returning from the previous council. "During that time, Haywood served with distinction in various posts including that of Deputy Mayor. With her vast experience and work ethic, she is seen as a good foil and inspiration to guide the new members and lead the council forward," the report added.
After her election, Haywood thanked her colleagues for the confidence shown in her and for their support while she served as Deputy Mayor. While acknowledging that the job will be challenging, she was confident that together with her colleagues, several issues affecting the town will be addressed.
Additionally, Deputy Mayor Tucker was reported as assuring that the newly elected mayor has his full support in the executing the mandate of the council.
Around the Web