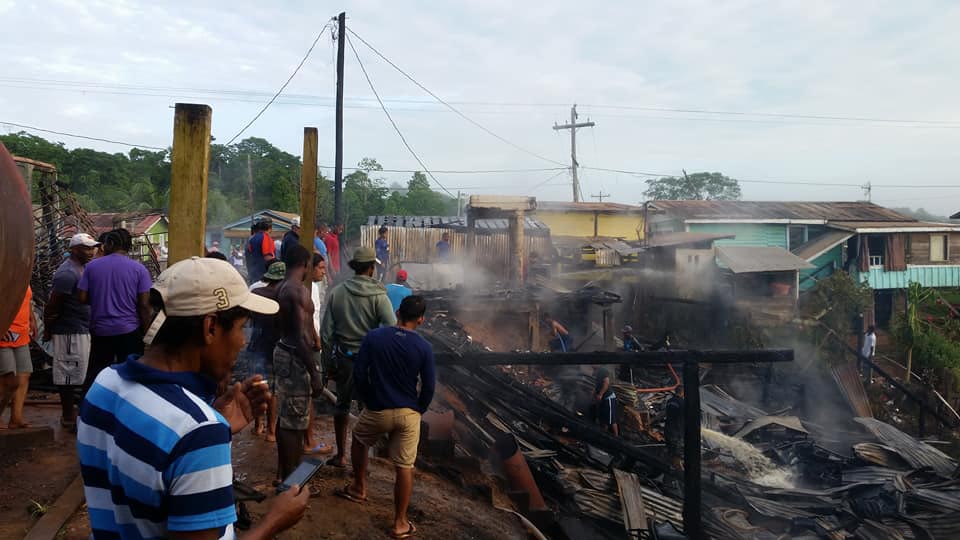 The fire that destroyed four buildings yesterday morning at Turn Basin, Port Kaituma, North West District is being treated as arson.
Stabroek News was reliably informed that since the incident police have taken statements from the owner of the destroyed properties, as well as members of the family who were inside of one of the buildings when the fire started.
Further, the Guyana Fire Service has been alerted to the incident and arrangements are being made to have fire investigators travel to the area to conduct an investigation.
Meanwhile, reports reaching this newspaper state that an alarm was raised just around 4:30 am Tuesday morning, after the first fire broke out at a fuel bond belonging to businessman Brian Gamell, who sells fuel in the community.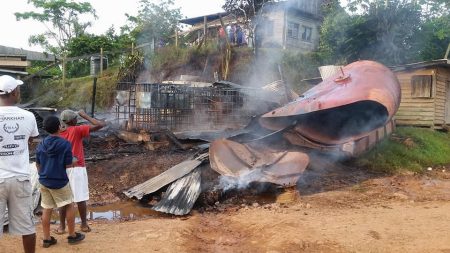 It was noted that almost simultaneously another fire erupted at the businessman's home, which quickly spread to two other buildings, another business and a residence. Fortunately, no one was injured during the incident.
While attempts were made to contact the business owner, Stabroek News was told that the man and his family had already relocated from the area.
Nevertheless, it was noted that the owner of the business, where the blaze started, believes that the fires were deliberately set, as it was pointed out that there was no electricity at the now destroyed bond.
Additionally, Stabroek News was informed that Gamell told the police that he had heard persons talking loudly in the vicinity of the bond, minutes after which he heard an explosion. Upon inspection, Gamell quickly realised that it was his bond on fire.
It was also noted, that Gamell told the police he did not recognise any of the persons he had heard talking outside just before the explosion. This newspaper understands that his losses have been deemed to be in the millions.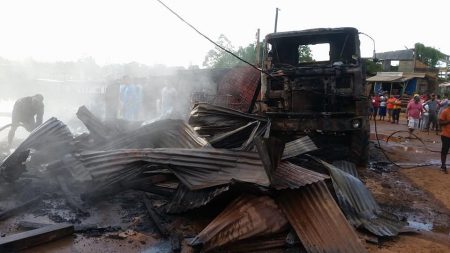 Meanwhile, the Port Kaituma Auxiliary Fire Service has received some praise from persons in the area, as its members came out in full force yesterday morning to help contain the blaze.
One resident noted that despite the challenges the auxiliary fire service fighters face in performing their duties in time of need, including lack of transportation and fire-fighting equipment, the first-responders made it their duty to assist.
"They tried their best, based on the varied time they reached the scene. It's not easy as people will put it, when you live a distance away and have no sort of transportation to take you there immediately," the man said.
Nevertheless, there were calls to upgrade fire services available in the region, as the first responders are often times left to fight fires with buckets and small water pumps.
Around the Web