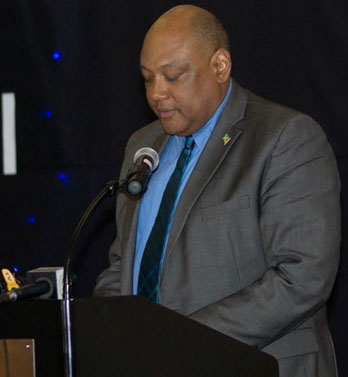 Opposition Leader Bharrat Jagdeo yesterday charged that Alliance For Change (AFC) leader Raphael Trotman played a very active role during discussions by the teams representing him and the president on the nominations to fill the post of Guyana Elections Commission (Gecom) Chairman.
As a result, Jagdeo says that any defence of Trotman as a passive observer is rubbish and that the AFC knew long before the appointment of the president's decision to unilaterally select retired judge James Patterson as Chairman.
"They said, first of all, that this was not a role for them, this was for the president alone and that he made that decision, implying without their knowledge. Nevertheless they agreed with him because the 18 people were bad, there was a constitutional crisis looming, etcetera," Jagdeo said.
"I am just pointing out that they had a more involved presence than just passive onlookers as [Dominic] Gaskin and others are trying to portray. That he [Trotman] was party to the discussions there and was part of the drafting committee that put together that statement," he added.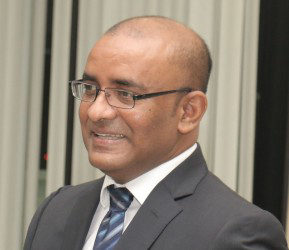 Trotman is still to explain his presence at the State House meeting when President David Granger informed Jagdeo of his unilateral selection of Patterson.
As Natural Resources Minister, Trotman would have had no reason to be present. It would appear that he was present in his capacity as AFC leader to show coalition unity over the selection of Patterson. If that were the case, it is unclear if Trotman had been told beforehand what the meeting was about, whether he objected to the president over it and whether his party had been consulted.
While Trotman was present at the meeting where Jagdeo was informed, he was not present at Justice Patterson's swearing in a few hours later and has since not answered questions from Stabroek News on the matter.
Granger and Minister of State Joseph Harmon, who this newspaper understands was acting as Attorney General, were the only government officials present at Patterson's swearing in.
Gaskin, an AFC executive who is also Minister of Business in the government, this week said that the party's executive was aware of Trotman's presence and stands by a statement in which it said it supports the president's decision.
"I think that is entirely in order for him to have the leader of the AFC there. I think it is recognition that we are a coalition government and that Mister Jagdeo, perhaps, should not be getting information before we do," Gaskin said as he made clear his position was that of an AFC member and not as government minister.
Shield
But Jagdeo said that Gaskin is trying to shield Trotman, protect the AFC and at the same time defend the president, who is his father-in-law.
"…AFC trying to have it both ways as per usual. They are for something one day and then against it the next day. It just shows how opportunistic they are and cannot be trusted. Let me tell you a bit about Trotman's presence. Trotman was there twice, not the time alone when the president informed me that he was going to appoint Patterson… he was there for that meeting and Trotman was there when we agreed – that should the third list fail we were going to establish a high level committee to work this through in a collaborative fashion until we had a chairperson that is acceptable to both sides. Trotman sat at that meeting. He was not a passive participant. Trotman helped to draft the joint release. It was Trotman, Harmon and Anil Nandlall who drafted the press release that came out. Trotman was part of drafting it. So, Trotman knew there was a joint commitment to the nation and everyone else that should the third list be rejected by the president then we will set up a committee. So Trotman and the AFC can't exclude themselves      totally," Jagdeo said.
"Why didn't Trotman say to the president: 'Mr President you are going to be deemed untrustworthy? You are not keeping your word because I sat with the opposition on this matter and I drafted a joint something and your current action is in direct contradiction to that commitment you gave Guyana and the leader of opposition? If he had any courage, if he had any decency or integrity, that is what he would have done. No amount of sidetracking by Dominic Gaskin, the president's son-in-law, could take the AFC to rehabilitation on this matter. They were part of it from the beginning. In fact, Trotman was at more meetings than Basil Williams. I think he was closer to the president on this matter than the attorney general," he further suggested.
Looming
Following Patterson's appointment, the AFC had issued a statement saying that it accepted the decision and that it was necessary to avert a "looming constitutional crisis" and that it intends to use the constitutional reform exercise to ensure that there is wider participation of stakeholders in the selection process for Gecom commissioners.
"The party recognizes that according to the constitution the consultation process was purely between the President and the Leader of the Opposition. The AFC played no part in the selection process," the AFC statement said.
Gaskin had also pointed out that he has heard much criticisms of the AFC's statement but many did not seem to understand that the constitution does not provide for consultations with any party as the decision to choose a chairman is placed on the president.
Pointing to the constitution, he explained that it was how the country's law was set up to deal with the selection of a Gecom Chairman, since it never seemed to take into consideration any dialogue in the process.
"The president acted within his constitutional right. There was no violation of the constitution in his appointment and how it was made," he said.
"As a member of the AFC executive, I don't see what all the hullabaloo is about to begin with because we are looking at a flawed system to begin with. We are looking at the Guyana Elections Commission, which is a creature of the two dominant political parties at the time when it and that system was created. We in the AFC have never had a position or a commissioner on Gecom, we have never been treated with particular respect by Gecom, information that was readily available to the other two parties we had to struggle and fight up to get. I don't know why we are so suddenly so concerned about the composition of Gecom and the process of selection and all of that. It is flawed to begin with," he added.
But Jagdeo said that saying that the system was flawed was just an excuse. "Now they recognise it is a flawed system? …I expect you would hear that from his (Granger's) son-in-law. This position by the AFC is opportunistic and I think we needed to make sure we deal with," he stressed.
"They knew long before they claimed ignorance to the process. The leader of the AFC was in the discussion several times between the president and myself and my team. They knew of the decisions that were made. Many of those discussions to moving forward were made jointly. So, it was not just a passive role that Trotman played and Dominic Gaskin says. His role was to get information before Jagdeo can't get it first.
They try to make it look like Trotman was playing a benign role. But he was there not only at that meeting but at another where decisions were made…a joint statement committing the two parties in a particular manner and the president acted in contrary to that agreement to which Trotman was a part of," he added.
Jagdeo said that he wants it to be made clear that he and the PPP/C believe that the president broke the law in his selection of Patterson and any other "twists and spins" by government to neutralise that claim should be rejected.
"We are not saying the court must force the president to choose from the rejected nominees, we are saying he (the president) acted unconstitutionally. I already made it clear that I was prepared to submit as many lists as necessary. The court ruling was that if he rejects the nominees, then he was to give explanations…We were saying that he must act lawfully and he acted illegally and unconstitutionally. We see a lot of this in the spin by the government to address these issues," he said.
Around the Web