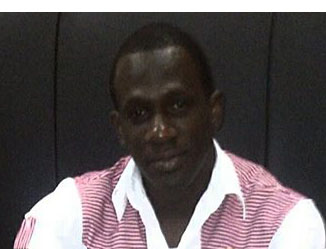 A lone gunman robbed Guyanese gospel singer Kester Deane, popularly known as 'Kester D', of a quantity of valuables just after midnight yesterday and the items were later returned to him after the robber realised the identity of the victim.
The incident occurred around 12.45am yesterday, shortly after Deane had arrived home and was about to enter his Georgetown yard.
The gunman relieved the singer of his computer bag containing his laptop and external hard drives, two cell phones, two rings and his wedding band.
In a Facebook post seen by this newspaper, Deane explained that he had just returned home after the broadcast of his Gospel Rocks Radio Program when he was held at gunpoint while entering his yard.
"I heard my dog bark, just as I looked to see what it was, up came a male … face covered with what seems to be a red and white rag, with gun drawn pointed in my direction, asking where is the money", he said in the post.
After the bandit demanded cash, Deane said, "I replied I have no money all I have is my computer and two phones which he took, he also asked me to take off my wedding band and another gold and silver ring with my initial (KD). He asked for my wallet and said I don't have that, then asked to empty my pockets"
At this point, Deane's teenage son was alerted and came outside to enquire what was happening. The gunman pointed the gun at him, ordering that he return into the house. "The tenant upstairs where I lived came down to see what was happening, he too was asked to return upstairs with gun pointed at him", the post read.
The bandit then fled and the matter was reported to the police.
However, hours after the attack, Deane called his phone and got an answer. Deane said after the bandit realised that he was the victim, he apologised and offer to have the items returned.
"I said hello good morning, he replied, morning! Is this Kester D and I said yes…. he replied, in a very nervy tone, I didn't know it was you, bro. I'm so, so sorry for what I did, I want to give you back your stuff", Deane related in a subsequent post.
The singer is grateful that no one was hurt during the incident.  "The devil is mad, that is why we should take nothing for granted….. to God be the glory great things he has done", he said.
Around the Web