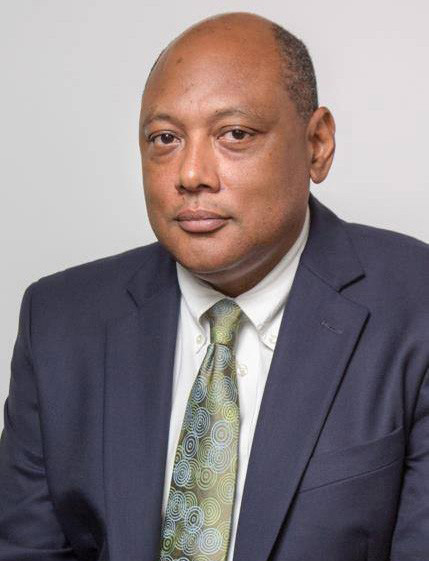 Amid growing questions, the Alliance For Change (AFC) yesterday said its leader Raphael Trotman had been invited to State House on October 19th where he was advised by President David Granger that retired Justice James Patterson would be named Chairman of the Guyana Elections Commission (GECOM).
For  more than a week Stabroek News had posed several questions to the AFC on the circumstances in which Trotman appeared at State House for the announcement but it gave no answers until yesterday when it issued a public statement in response to allegations made by Opposition Leader Bharrat Jagdeo at a press conference this week.
However, the terse AFC statement still leaves questions unanswered. It said that "Party Leader Raphael Trotman was invited to an urgent meeting at State House by His Excellency President David Granger on the evening of October 19th, 2017. At the meeting President Granger informed Mr. Trotman of his decision with regard to the appointment of Justice James Patterson as GECOM Chairman. The meeting concluded and Mr. Trotman departed".
Justice Patterson was then sworn in.
The AFC is in the governing coalition with APNU. Observers have pointed out that while the AFC says it wasn't consulted on the appointment, it allowed the President to use it by inviting Trotman to be present at the meeting at which Jagdeo was notified. If the President didn't see it fit to consult his coalition partner on the selection, why did he invite Trotman and why did Trotman show up?
Being spare on details, the AFC statement yesterday doesn't say what Trotman's response to the President was on being told that Justice Patterson would be sworn in. Observers note that in his capacity as the party leader, Trotman would have had to consider whether his party would have approved of him being present to rubber stamp what has turned out to be a highly controversial unilateral appointment of the GECOM Chairman.
A day after the swearing in, the AFC issued a statement saying  that Granger's appointment of a chairman  had prevented a constitutional crisis.
"It is regrettable that after three protracted rounds of consultations and submissions each of the three lists fell short of the requirements of the constitution. The party recognizes that the necessity had arisen for the President not to further delay the appointment of a Chairman. The appointment in the President's own deliberate judgement has averted a looming constitutional crisis", the AFC said on October 20.
The AFC yesterday also released what it said was a substantive excerpt of an email that Trotman sent on the evening of the swearing in which affirms that the AFC was not involved in the selection process.
"Dear All,
"I arrived at State House this evening and was shown a letter by the President, which was addressed to Mr. Jagdeo. In essence, the President's letter stated that he has rejected the 3rd list and has considered the ruling of the CJ, and it is his opinion, that he is constitutionally empowered to name a person to the Chairmanship. Further, he has named Justice (ret'd) James Patterson to be the GECOM Chairman. 
"Mr. Jagdeo and team (Anil Nandlall and Irfaan Ali) came at 6 pm for the meeting and were informed of the above and then handed letters to this effect. Mr. Jagdeo challenged the President's rejection of the list and his right to unilaterally name a person. His basis was that it is unconstitutional in addition to being an act of bad faith. He (Jagdeo) also stated that he will not recognise Justice Patterson as being impartial and will challenge the appointment.
"This is my brief report and I have attached a copy of the letter in three parts."
The AFC then added that "Mr. Jagdeo appears to be deeply disturbed by the party's condemnation of his reckless and unpatriotic threats of non-cooperation and civil disobedience and that the party's publicly stated position is that it would have held him accountable for the consequences of any civil unrest which might have ensued from such a reckless stance. Mr. Jagdeo's threats turned out to be nothing but empty bluster having been rejected by the people of Guyana, including his own supporters".
At a press conference on Tuesday, Jagdeo had derided the AFC's assertion that it had not been involved in the selection of Patterson.  He said that Trotman had attended two meetings that he (Jagdeo) had held with Granger on the matter of the GECOM Chairman.
"…AFC trying to have it both ways as per usual. They are for something one day and then against it the next day. It just shows how opportunistic they are and cannot be trusted. Let me tell you a bit about Trotman's presence. Trotman was there twice, not the time alone when the president informed me that he was going to appoint Patterson… he was there for that meeting and Trotman was there when we agreed – that should the third list fail we were going to establish a high level committee to work this through in a collaborative fashion until we had a chairperson that is acceptable to both sides. Trotman sat at that meeting. He was not a passive participant. Trotman helped to draft the joint release. It was Trotman, Harmon and Anil Nandlall who drafted the press release that came out. Trotman was part of drafting it. So, Trotman knew there was a joint commitment to the nation and everyone else that should the third list be rejected by the president then we will set up a committee. So Trotman and the AFC can't exclude themselves totally," Jagdeo said.
The Opposition Leader further asked: "Why didn't Trotman say to the president: 'Mr President you are going to be deemed untrustworthy? You are not keeping your word because I sat with the opposition on this matter and I drafted a joint something and your current action is in direct contradiction to that commitment you gave Guyana and the leader of opposition? If he had any courage, if he had any decency or integrity, that is what he would have done".
Yesterday, PPP/C MP Anil Nandlall also weighed in on the matter. Referring to the meetings between Granger and Jagdeo over GECOM, he said:
"As a participant at almost every one of those meetings, I wish to state that Mr. Trotman attended several of those meetings. In fact, he attended more meetings than the Attorney General. He was not a mere bystander as the AFC now wishes to portray. We were of the impression that he was there in his capacity as Leader of the AFC.
"Indeed, at one of those meetings, an agreement was  arrived at, that should the third set of names  be rejected, a joint team would be established by the Leader of the Opposition and the President which would explore other avenues within the parameters of the Constitution to arrive at a consensual candidate. It was further agreed that a joint public statement should be issued capturing this arrangement.
"This joint statement was drafted by yours truly, Minister Joseph Harmon and Minister Raphael Trotman. How therefore, can Minister Trotman be considered a mere bystander at these engagements?"
He added that if the AFC's version is correct, then the next question is, is there a Coalition in Government or some freeloaders with APNU?
Around the Web