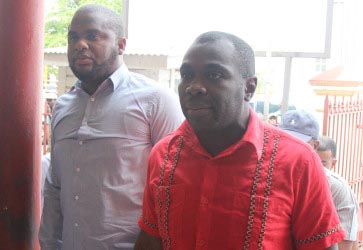 Kwame McCoy, Jason Abdulla and Shawn Hinds, the three men accused of dousing newspaper columnist Freddie Kissoon with faeces, yesterday proclaimed their innocence of the crime when they each led their defence in unsworn testimony.
People's Progressive Party (PPP) members McCoy and Abdulla, as well as bodyguard Hinds are charged with committing the assault in the vicinity of Robb and Light streets on May 24, 2010. They were each called upon to lead a defence after the court found that a prima facie case has been made against them.
When their trial resumed before Magistrate Judy Latchman in Georgetown yesterday, McCoy was first called upon to present his evidence to the court. He told the court that he has never participated at any time, either by way of contemplation, support or execution, in an assault on Kissoon.
He noted that he was absolutely convinced that the charge was a fabrication against him and reiterated that he was innocent of the charge.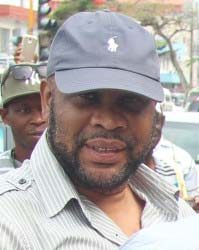 His attorney, Latchmie Rahamat, stated that they would be calling no witnesses.
Subsequently, Abdulla, like McCoy, told the court that he was innocent of the charge. He denied assaulting Kissoon or being a part of any plot to perpetrate an assault on him.
Abdulla told the court that he has never had an altercation with Kissoon and does not know him in a personal capacity.
He also challenged the contents of a confession statement, in which he implicated himself and his co-accused, and which the court ruled was made freely and voluntarily. Abdulla stated that while in custody at the Criminal Investigation Department (CID), at Eve Leary, in 2016, he was given a few pieces of paper to sign but had no knowledge of their contents until he was placed before the court on a charge that he assaulted Kissoon.
His attorney, George Thomas, then told the court that his client would not be calling any witnesses.
Attorney Glenn Hanoman also made this statement after his client, Hinds, also professed his innocence to the court.
Hinds relied on a statement he would have given to the police at CID headquarters, where he denied being a part of any planning to commit any offence against Kissoon.
At the conclusion of their testimony, Magistrate Latchman adjourned the case until December 1, when the defence attorneys are expected to give their closing addresses and the police prosecutor Shawn Gonsalves is to reply.
Around the Web