Debra Rostron was just 17 when she departed Guyana to study in Canada. Three years later she was married and living in the United Kingdom. Fast forward ten years, and she was a struggling single mother – a situation she believes led to her older child having mental health issues, which coupled with a failing system resulted in him taking his life ten years ago.
But through all of life's turns and twists Rostron always had a passion to help the vulnerable and so while she fought to help her son she was also fighting to have a home for children in need. Losing a child is difficult for any parent, but when it is suicide the pain could be more as there are many unanswered questions. Rostron said she never allowed herself to become consumed and did not give up on her dream, one that she believes eventually became her son's.
It has been a long journey but tomorrow Rostron will officially opened the doors of her home at Ruby, East Bank Essequibo, named for her son Jamie. Jamie's Home has the capacity to house ten children but initially, Rostron said, the home will just have five children.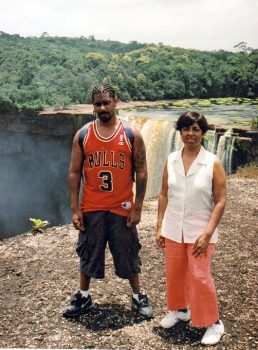 "It has been a long journey of perseverance. It took years, but I am happy that it is now being opened," Rostron told the Sunday Stabroek in an interview.
And while the death of her son may have given her the final push she needed to make the home a reality, Rostron said she knew she wanted to do something for children when she observed children living on the street on her first return visit to Guyana.
"When I lived in Guyana we didn't have children living on the streets,' she said with a sad smile.
Rostron was just 20 when she got married and when she became a single parent at the age of 30 in the UK, she found it very difficult as her children were just eight and five years old at the time.
She raised them on her own as her ex-husband had remarried and started a new family, but she did receive help from her mother and a friend Jean Davies.
Rostron still struggles when she speaks about her son and she shared that when he became a teenager, she believes that because of the disconnection with his father he suffered from depression and later had a mental breakdown. He was about to write his A-Levels when he made the first attempt to take his life.
"As a single parent it was very difficult for me, holding down a full-time job and being a mother and struggling to deal with him," Rostron said.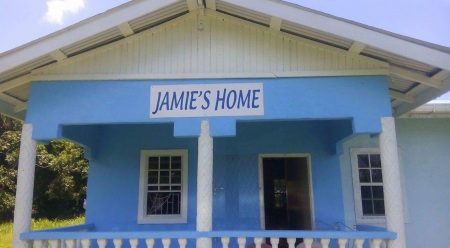 It took years to get her son the treatment he needed, and she later brought him to Guyana and at that point she believed life had gotten better for him. It was then the idea of having a home for children was birthed and Rostron said Jamie quickly bought into it as he fell in love with Guyana instantly.
"When I brought him to Guyana, he loved it, he said it is his mother's country and it is his country. He said never felt the UK was his home even though he had been born there," the mother said.
Jamie was in his mid-twenties and still receiving treatment, but he was stable, and she felt the trip to Guyana could have been a turning point.
Prior to that visit, Rostron said, on a previous visit she had noticed that families did not get the support she got back in the UK and she wanted to give some assistance. And so, it was during that trip that she purchased three acres of land at Ruby. At that time, Rostron recalled, she had no money to build the home but as a Christian she was moving ahead in faith.
She purchased the land in Ruby as she wanted to have the children away from the city and the "bright lights" and instead give them a "healthy rural upbringing" and she also wanted to also introduce them to sustainable way of life as she hopes that there will be fruit trees and vegetables in the huge yard.
All this time Rostron held down a full-time job at the Moorfields Eye Hospital where she managed the in-patient waiting surgery list. Her boss at that time was Dr Chad Rostron who later became her husband.
'Very sensitive'
Rostron recalled that her son was very sensitive; she described him as an artist as he also wrote poems and loved music, but he was an introvert.
He had a part-time job, but she believed he did not get the help he needed, and the system failed him as it took her four years to get the authorities to listen to her and give him the treatment he needed.
"I had to battle this on my own and I believed his illness progressed because he was on the wrong treatment, when I had concerns they did not listen to me," she lamented.
In September 2007, Jamie took his life.
As his mother shared this she cried, noting that right about that time she was planning a fund raiser as she was supposed to return to Guyana with Jamie in November of that same year.
"But I did not give up. I planned a funeral and a fund raiser at the same time," she said in tears.
Following Jamie's death an inquest was held and Rostron said it found that the authorities were indeed negligent. It was a finding that gave her some closure.
Rostron has a daughter, Lindsay Foley, whom she described as being "wonderful and my rock".
The home
Jamie's Home has four bedrooms, three for the children and one which is self-contained for the house mother. The communal bath area has two showers, two toilets and two sinks. The rooms will have wardrobes and the children will be assigned drawers with their names, so they can take ownership of their belongings.
The home will accommodate children between the ages of three and ten as Rostron said younger children will need more care and it may be difficult to send the older children to school since there are only primary schools in the area.
The children will be provided by the Child Care and Protection Agency (CCPA) and Rostron said it will be more like a foster care arrangement rather than an institution. She emphasized that it is not an orphanage as the children to be housed there will not be parentless but rather they would have had to be removed from their homes because of some difficulties and efforts would be made to re-integrate them with their families. The children will also be allowed, based on the advice of their case worker, to spend holidays with their families.
The home will only house girls, but Rostron said that should she receive the assistance needed four more homes will be built and both boys and girls will be accommodated.
While the official launch is set for tomorrow, Rostron said, the actual housing of children will be left up to the CCPA.
"But I hope this could be done as soon as possible. I would like it to be done before December 6, when I am scheduled to leave," she said. "I need to see the fruits of my labour. It is like taking years to give birth."
Rostron made it clear that she is more interested in "quality and not quantity" as she wants the children to be exposed to a home environment.
Rostron and her husband also have an NGO: Jesus in Action Charities Inc, through which her husband has provided service in eye surgeries at the Georgetown Public Hospital and in Linden.
Around the Web