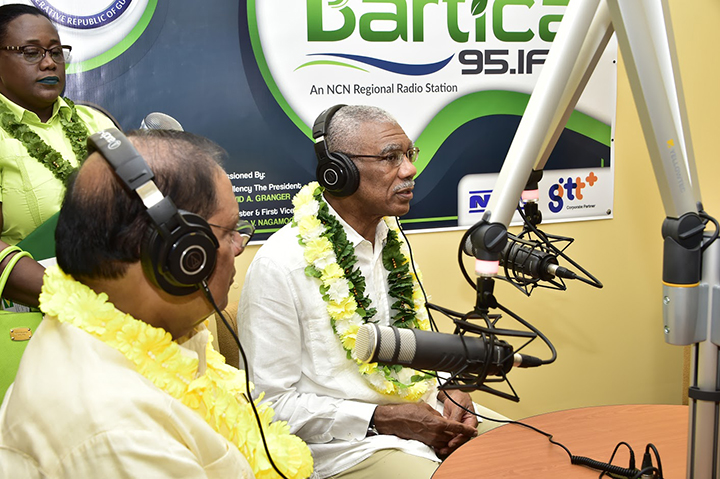 President David Granger on Saturday charged the residents of Cuyuni-Mazaruni (Region Seven) to ensure that the voice of every citizen is heard as he launched 'Radio Bartica' at the Bartica Learning Centre.
According to a statement from the Ministry of the Presidency, the President said that as the region's first station comes into operation, its operation and content should reflect access for every citizen and appeal to every member of society.
Delivering the feature address, before unveiling the plaque, President Granger said that the day marks the opening of a new but important chapter in public information for the country and the region of Bartica. 
"We are interested in communicating with people where they live and work and we have to be realistic. We fought hard for Local Government Elections and when we speak about regionalism, we speak about empowerment at the local level and March 2016 was the turning point for development in this country. The people had no say in how the community was administered. Development has been hampered because of the failure to involve the ordinary people, because of the lack of information, investment, infrastructure and innovation. Without information, there will be no development and that is why we have placed special importance on the public information system. We are developing public information to achieve certain specific targets. It is not a sideshow. It is central to development," the President stated.
While access is one of the fundamentals, Granger noted the importance of appeal in content development. "There must be appeal. We must appeal to citizens everywhere and make the outlets for our culture, our language, education, our entertainment so that the radio does not become something episodic but a continuous thing but you must be able to appeal to every Guyanese and they must want to listen to their own radio station," Granger said.
Granger, according to the statement, said that the radio station must seek to raise awareness on issues, which are hindering the development of the country or those that need a collective effort.  "When I speak about awareness, I speak about social cohesion. This is a work in progress and we have to continue working and believing. Unless we work to make it a reality, we will slip back and become divided", he said.
The President said that attentiveness to minority and vulnerable groups of society is equally important.
"In everything we do we have to think about minorities not just the ethnic but gender and those who are challenged in one way or the other; people in remote areas, people who live along rivers must be able to have access. We must hear all voices [because] that is the purpose of Local Government and Local Government Elections so that everyone can get access. Public information is equivalent to public interest. The people must know what is going on in their communities. They have a right to information. Information must not be treated as a preserve of a small group," he said.
The President cautioned that every individual hired to work at the radio station must exhibit a sense of responsibility and respect for ethic and integrity.
Regional Chairman, Gordon Bradford said that it was a historic day for the region and town.
"Today we are commissioning Radio Bartica and this will definitely bring tremendous benefits to our Region and our Town. I expect that every department will make the best out of this radio station. All of us stand to benefit from this radio station. This is a dream come through. We thought that the day would have never come but now we are witnessing what has become reality in Cuyuni-Mazaruni," he said.
Around the Web