The Rajiv Gandhi University of Science and Technology on Monday inaugurated its new campus building at Cummings Lodge.
In attendance at the ceremony were Minister of Education Nicolette Henry and Junior Minister of Health Dr Karen Cummings.
The new campus is equipped with nine classrooms, which are able to accommodate in excess of 20 students each, a skills lab and a doctor's clinic. It was related that the new campus was needed because of the university's increased intake of students.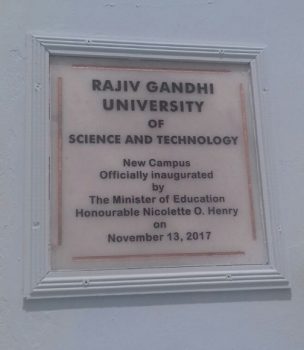 Though its student population is said to be mostly made up of local students, the student body also includes students from India, Ghana and Pakistan.
Established in 2012, the university formerly held classes at its Sheriff Street location. It was said that that branch will continue to serve as the university's main office, but will also act as a studying space for students.
The Rajiv Gandhi University offers the Bachelor's Degree in Science (pre-requisite for the Medicine Degree) and the Bachelor's Degree in Medicine.
Its first batch of medical doctors graduated in July.
The university is affiliated with the Georgetown Public Hospital Corporation, the New Amsterdam Public Hospital, the St. Joseph Mercy Hospital, the Eureka Medical Laboratory, Demerara Paradise Inc., the Davis Memorial Hospital and the Anamayah Memorial Hospital.
Around the Web