Sunil Dindial, who was accused of the sexual molestation of a six-year-old girl, yesterday walked out of the High Court in Georgetown a free man after being found not guilty by a jury.
As his shackles and handcuffs were being removed after Justice Simone Morris-Ramlall told him that he was free to go, a visibly-relieved Dindial could be heard thanking the jury.
After about two hours of deliberations, the 12-member mixed panel returned majority verdicts, acquitting Dindial on the first count of raping the child. This verdict was 11 to 1.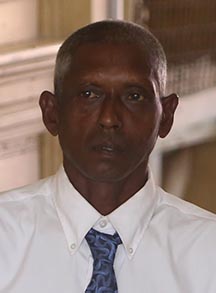 Meanwhile, on the second count that he had engaged in sexual activity with the child, Dindial was found not guilty by a proportion of 10 to 2.
The acts were alleged to have occurred on October 3 of last year.
Dindial was accused of penetrating the child with his finger and was also alleged to have kissed her.
The trial proceedings were held in-camera.
The state's case was led by Prosecutor Shawnette Austin, in association with Tiffini Lyken and Narissa Leander.
Dindial, meanwhile was represented by attorney Adrian Thompson.
Around the Web