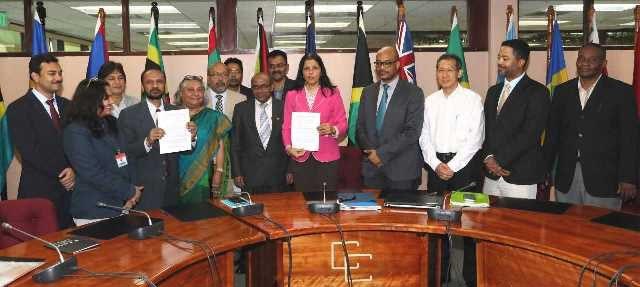 The CARICOM Secretariat last Wednesday officially took ownership of a new web-based Integrated Work Flow System (IWS).
According to a Caricom press release, the IWS, which is expected to enhance the efficiency of Caricom's operations and improve the delivery of service, was developed by the Centre for Development of Advanced Computing (C-DAC) – a Research and Development company from India, under a project financed by the Government of India. A C-DAC team, led by Director General and Group Coordinator Dr Debashi Dutta, was present at Wednesday's official handing over ceremony of technical documentation and manuals, at the Headquarters of the Caricom Secretariat in Georgetown, Guyana.
The release stated that the Integrated Workflow System provides platforms for Document Management (Document Approval Workflow), Records Management and Web Content Management. The project has also delivered templates for a Web Portal.
Speaking at the handing over ceremony, Deputy Secretary-General of CARICOM,  Ambassador Manorma Soeknandan praised the efforts made by the C-DAC and CARICOM Secretariat's Integrated Information Service teams to successfully deliver this project, the release said. She also noted that staff members who viewed the various modules have very high expectations for positive change, the release added.
Meanwhile, India's High Commissioner to Guyana  V Mahalingam reminded the ceremony that while change of the type envisioned by the new system, often brings initial discomfort, this project provides a two-member hand-holding team for a period of one year to assist with the transition, the release said.
Around the Web