Despite an assurance from Gaico Construction Services that a key section of the Parfaite Harmonie access road is sound, consultant Edward Gonsalves has said it was constructed with poor quality asphalt, which is responsible for its continued deterioration.
After various complaints from residents and drivers over the condition of the road, Stabroek News visited the community but found that the numerous potholes that were described by persons had been patched. Gaico Construction Services CEO Komal Singh subsequently confirmed that the company, which built the middle section of the road that was riddled with potholes and other defects, had done the repairs since it had given the Ministry of Communities a 10-year warranty.
Singh had also stated that the formation of potholes and other defects on the road was as a result of the dumping of overburden on its shoulders and the constant roaming of cattle along the thoroughfare. He had assured that the road was a "very solid road" and advised the responsible authorities to ensure that the waste from the canals was not being dumped near the road.  However, in a letter to Stabroek News two Fridays ago, Gonsalves said that the road was poorly built. Gonsalves explained that in February he had organised a visit to inspect roads around the country that had "prematurely failed" for 30 members of staff of the Ministry of Public Infrastructure (MPI).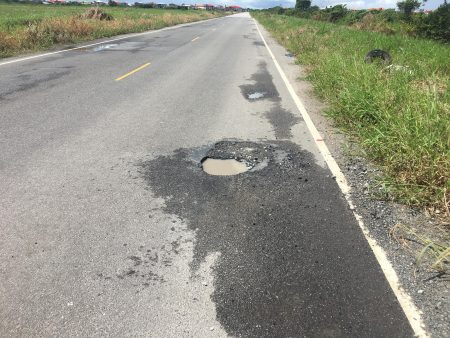 One of the roads was the Parfaite Harmonie access road and Gonsalves said that the inspection revealed that there were over a hundred patches in the central section which had been built by Gaico, but there were fewer patches along the other sections which had been built by BK International.
When contacted last week for a comment on the asphalt claim, Singh said that he did not want to say anything.
The MPI was also contacted and it was confirmed that a visit was made to the road and it was determined that it was in a bad state. It was noted that the information was passed on to the Ministry of Communities.
Stabroek News tried to contact the Ministry of Communities but was unable to confirm what had been done after the information was received.
"Hats off to Komal. He didn't claim a poor design or faulty inspection. This would be pointing a finger at the designers and inspectors who would no doubt be highly offended. Instead paragraph one of your newspaper article states "Komal Singh Chief Executive Officer of Gaico Construction and General Services, says the dumping of overburden from the canals onto the side of the La Parfaite Harmonie access road is a major contributor to the road developing faults." Great answer. Pin the tail on an unnamed jackass," Gonsalves said in his letter.
Gonsalves said that while Singh had stated that the road is very solid, he had noticed numerous potholes developing in the mid-section of the road a year after it was built, which was one of the reasons why he had organised an inspection.
"Really. Do you think Komal would admit that he did a very poor job, so poor that it pales when compared to the other two sections which were constructed by BK and constructed under exactly the same conditions?" Gonsalves questioned in the letter, while asserting that $600 million of taxpayers' money had been wasted.
He said that Singh's explanation of the development of potholes sheds little light on why the road prematurely failed and he has dodged the bullet by "pontificating on why roads fail."
Bad asphalt
When asked why the section of the road is failing as compared to other sections, Gonsalves charged that Gaico used "very bad asphalt" during its construction and continues to use the same while doing repairs.
"He put down very bad asphalt. His asphalt didn't meet specifications and it is as simple as that. BK's asphalt was much closer to specifications," Gonsalves said, while highlighting that the asphalt that is being produced and used by Gaico is of a poor quality and will always result in the premature destruction of roads that are built using it.  "He put down asphalt that is of a very poor quality and that is why it developed so many potholes. BK produces asphalt that does not meet specifications but he probably put down a higher quality asphalt than Gaico," he added.
With respect to the 10-year warranty, Gonsalves said it doesn't make sense that a company would construct a road so poorly and then insure it for ten years.
"If you guarantee your work for ten years, why do you have to go fix potholes so often? I was on that road two and a half years after it was built and I counted 100 patches which means there were 100 potholes. The question is how many times he has gone back to fix potholes since the road has been completed," Gonsalves said.
Drivers who frequently use the road are also fearful that the road will soon return to its deplorable condition.  "There are already a few potholes coming back and the road only fix last month. People already have so start swerving away from these holes when they see them and those things are hazardous and can cause accidents," bus driver John Phillips said.
Around the Web