Two thousand customers of Plaisance and Ogle have been promised 24-hours water supply for Christ-mas, by the Guyana Water Incorporated (GWI), from the newly drilled $40 million Sparendaam well.
According to a press release from GWI, the new well at Sparendaam produced water for the first time, following seven weeks of preparatory works and four weeks of drilling. The well comes at an opportune time since there has been a sudden reduction in production at the existing well at that location. The new well was drilled at a depth of 764 ft. and is producing 200 meter cubes of water per hour, the equivalent of 100 450-gallon tanks of water per hour.
The Sparendaam well is the second of three wells being drilled by the Dutch firm De Ruiter Ground-watertechneik, according to the GWI release. The first was recently completed in Diamond and the third location is Sophia. A new method of drilling known as reverse circulation, is carried out by using compressed air, is being utilized by the Dutch company. Additionally, Poly-vinyl chloride (PVC) casings are being used, as opposed to steel casings, giving the well an estimated lifespan of 30 years.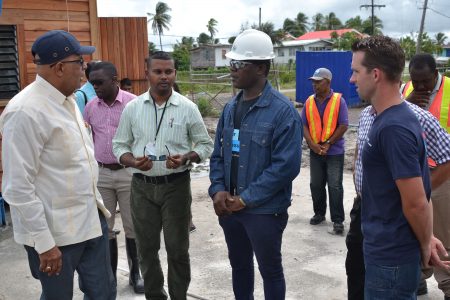 "We're expanding the Better Hope Water Treat-ment plant, we've activated another well and we're presently building a filtration system in Better Hope. With the additional water we're getting from better Hope and Sparendaam, what's going to happen is that Plaisance, Ogle and parts of Industry will see a better service level," Executive Director of Operations, Dwayne Shako was quoted in the GWI press release, as saying.
Managing Director of GWI, Dr. Richard Van West-Charles explained that GWI is working assiduously to connect the transmission lines to the Diamond well that was completed in September, according to the GWI release.
"The supply in Diamond will now be from two wells and coming behind that is the EU/IDB funded project for the treatment plant in Diamond, so those areas are going to be well served," Dr. Van West-Charles was quoted in the GWI release, as saying. He also highlighted the company's plan to purchase its own rig, so as to increase its in-house capacity and reduce cost.
Earlier this year, a contract was signed between GWI and De Ruiter for Euros 552,855 for the drilling of the three wells, the GWI statement said.
Around the Web