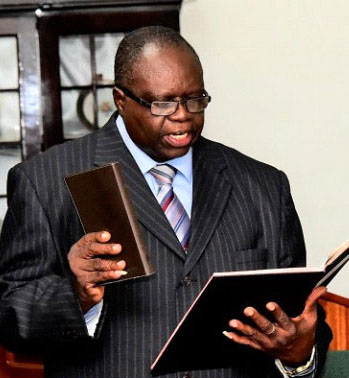 Since taking office in May this year, Ombudsman Justice (rtd) Winston Patterson has received a total of 71 complaints.
Giving brief comments to Stabroek News recently, Patterson said that aside from the complaints made to him, he inherited 13 cases and 11 non-jurisdictional matters.
According to Patterson, he wouldn't want to comment on whether he has any "major" cases before him as several which may fit into this category are sub judice. He also said that he is operating with adequate staff and facilities.
Justice Patterson was appointed to the office following the death of the late Justice (rtd) Winston Moore. The latter served from January, 2014, until his death in September, last year.
At Patterson's swearing in, President David Granger had noted that the position of Ombudsman is of significant importance to the nation, as the holder advocates for members of the public against injustices caused by maladministration.
"The services of the Ombudsman are free and timely. The Ombudsman serves as watchdog, guarding against abuse or the violation of citizens' rights by public officials and their departments and authorities. The Ombudsman is the public advocate," he said during his address.
Article 192 (1) of Guyana's Constitution states that the Ombudsman "…may investigate any action taken by any department of Government or by any other authority to which this article applies, or by the President, Ministers, officers or members of such a department or authority, being action taken in exercise of the administrative functions of that department or authority."
A complaint that had been brought by former Chief Executive Officer of the New Building Society (NBS) Maurice Arjoon was one of the matters dealt with by Moore prior to his death. Moore's report on the complaint contained the finding that a "grave injustice" had been done to Arjoon and two other managers as there was no evidence to sustain the charge of conspiracy to defraud that was eventually brought by the police against the trio.
Arjoon along with two managers were fired by NBS in 2007 after they were implicated in the unauthorised withdrawal in 2006 of $69 million from an account at the financial institution. In January, Arjoon lodged a complaint with the Ombudsman and in keeping with his mandate, Moore launched an investigation.
Moore subsequently laid over copies of his report to the Clerk of the National Assembly for the purpose of laying it before the National Assembly.
The Office of the Ombudsman is located next door to the Central Housing and Planning Authority on Brickdam and the public can visit to make complaints during normal working hours. The office can also be contacted on telephone number 226-2294.
Around the Web