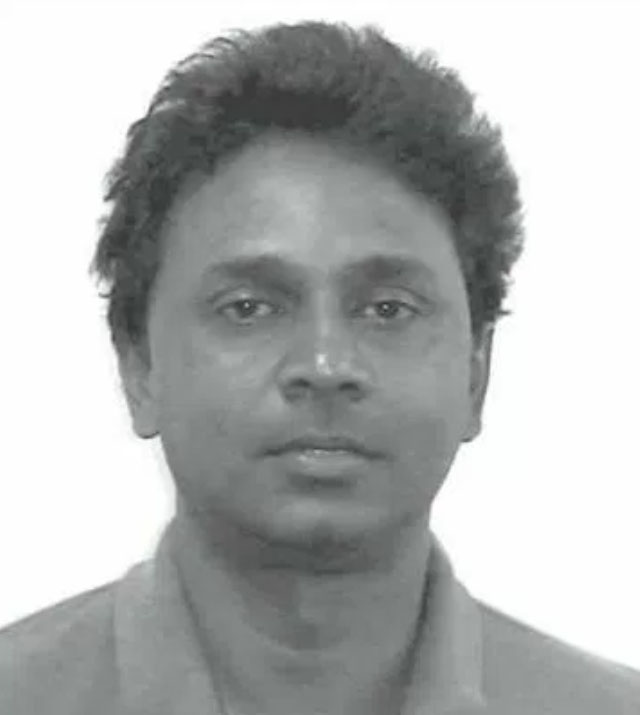 Rajendra Persaud, the missing Newtown, Kitty man whose badly decomposed body was discovered at Brighton Village, Corentyne on Wednesday, died from ingesting a poisonous substance, an autopsy has found.
Commander of 'B' Division Lyndon Alves confirmed the findings of the post-mortem examination, which was conducted yesterday morning.
The body of Persaud, 49, of Da Silva Street, Newtown, Kitty, George-town, who was an employee at Sterling Products Limited, was found in a clump of grass at Brighton backlands, after a cattle farmer detected a pungent scent and decided to investigate.
According to information gathered, the dead man had been recently diagnosed with diabetes and hypertension. Adding to this, a relative said that he had told his mother that he felt as though persons at his workplace "did not like him."
His father, former Region Six Chairman Rohit Persaud, when contacted last evening, was unaware of the post-mortem examination results. After Stabroek News related the results to him, he stated that he could not believe that his son would have committed suicide. However, he noted that he is not ruling out anything.
According to Rohit, the family still needs more answers as to how his son would have ended up at the Brighton Village, Coren-tyne backlands.
"He don't know that area, he live in town long, long years, we still need answers," he noted.
The bereaved father related that his son had told his mother that he felt as though persons he was working with envied him. "He did tell he mother how people didn't like him there and them sending pressure," he noted.
Rohit stressed that the family is seeking more clarity with regards to his son's final moments. He asked once more that the police speak with persons from his son's workplace to ascertain whether anyone would have wanted to harm his son.
Meanwhile, Rohit noted that his 43-year-old daughter, Rajendra's sister, had passed away last Boxing Day. He said that his son and daughter were very close, and his daughter's sudden death from a heart attack had affected his son greatly.
Rohit added that whenever his son would visit they would joke about him getting married. "I does tell he, 'Boy when me had you age, me already had children.' He does laugh and say why he go married girl now; girl nowadays only want dress and walk, then lef you," he recalled.
The man stated that he and Rajendra had shared many jokes, while adding that Rajendra was a family man who loved his mother very much and would call her every day.
Rajendra Persaud's final rites were performed at the Babu John Cemetery, Port Mourant, Corentyne, yesterday afternoon.
Around the Web