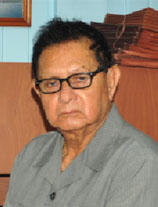 Although Justice Cecil Kennard was made to step down as Chairman of the Police Complaints Autho-rity (PCA) in February because of his advanced age, the post remains vacant.
Currently, Permanent Secretary of the Ministry of Public Security Daneilla McCalmon is overseeing the operations at the PCA.
According to the Police Complaints Authority Act, any person who has reasonable grounds to believe that a member of the police force is guilty of any misconduct may make a complaint to the PCA, which investigates and may recommend disciplinary action, including criminal prosecution.
When Sunday Stabroek visited the PCA's Brick-dam office last week, some of the staff members who worked with Kennard were still there. This newspaper was told that no chairman had yet been appointed and that McCalmon would have to give permission for staffers to speak about the work being presently done.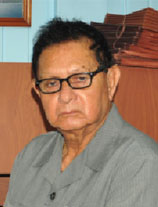 This newspaper made contact with McCalmon's office that very day but was told that she was out. Contact details were left but no call was returned. This newspaper visited the office two days later but was told by a woman identified as the secretary that she was in a meeting. This newspaper provided details on the information being sought and again contact details were provided. Up to the time of publication, no calls were returned to this newspaper.
Under the Police Complaints Authority Act, it is the sole responsibility of the president to appoint a PCA chairperson from persons who are qualified to be a puisne judge of the High Court.
President David Granger had said that the decision to ask Kennard to step down was part of his administration's move to establish an age limit for membership to state boards, agencies and commissions, in order to pave the way for younger persons to take the lead.
"So it is not a criticism of his [Kennard's] service but there will be a general order explaining our policy on age and retirement for agencies, boards and commissions but at the same time we hope to give other persons an opportunity to serve so that over a period of time we build up expertise in the younger generations too. So it is not a criticism of Justice Kennard. There will be further information but nobody is being purged. We are simply trying to give other persons the ability to serve," Granger said after being questioned then about Kennard's removal.
Observers and persons close to Kennard have since said that they find it strange that he was "forced" out of office and no arrangements were made to ensure that the post was quickly filled.
"That is an office that is of importance to police investigations. It is baffling that it would be sitting headless for nine months. That's unbelievable," a source said, while stressing that a better approach would have been to put Justice Kennard on notice that he will remain until a replacement is found.
The source also pointed out that it doesn't appear as though the situation would be rectified before year end, before noting that it took just as long to appoint a new Chairman of the Guyana Elections Commission.
"Replacing Justice Kennard does not require any consultation with the opposition leader or anybody for that matter. So what is taking so long? Did he [the president] forget that he sent that man home? Did he forget that the office is vacant? I don't believe the president understands how important that office is, especially in light of all the negatives that have befallen the police within recent months," another source said, while pointing out that all Guyanese should protest the unacceptable delay. "No one should be sitting down accepting this. This is a constitutional wrong that should be rectified immediately," the source added.
Kennard, who had been the PCA Chairman since 2002, was almost 80 years old. He remained on the job until the end of February.
Stabroek News had been told that that Kennard became aware of the decision to remove him from office while he was on holiday. He was initially given 36 hours to demit office, but this period was extended after he made contact with Public Security Minister Khemraj Ramjattan.
Retired judge Prem Persaud, who was Chairman of the Public Utilities Commission, had also been asked to leave office. He too at that time was almost 80 years old and demitted office at the end of March.
With his subsequent appointment of 84-year-old retired judge James Patterson as the Chairman of the Guyana Elections Commission, Granger faced significant criticism for backpedaling on the move to establish an age policy.
In an interview with this newspaper in January, Kennard had said that his team of investigators expedited most of the 840 cases brought before it last year. He had outlined plans for this year, including visits to all ten administrative regions. Also on its to do list for 2017, he had said, was the decentralisation of the PCA's operations and the hiring of an additional seven investigators through an Inter-American Development Bank-funded project.
Around the Web