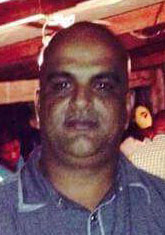 Police are still on the hunt for the two persons who carried out an attack on Rose Hall Town businessman Rajendra Prasad on Saturday afternoon which left him nursing gunshot wounds at the New Amsterdam Public Hospital.
Residents and vendors in the area yesterday told Stabroek News that the two men were seen entering and passing in front of the businessman's store several times before the attack was launched on Saturday afternoon.
Prasad also known as 'Bobby', 47, who lives and operates 'Bobby and Son Boutique' at Arch Road, Rose Hall Town, Corentyne Berbice, is said to be in a stable condition and was "resting comfortably" yesterday.
The two men – one unmasked but clad in a green dress and a wig and the other with a motorcycle helmet with the visor down – entered the store sometime after 3 pm on Saturday afternoon. An eyewitness, who asked not to be named on Saturday, told this publication that Prasad was standing in the cashier's cage when the men entered the store. The eyewitness said one of the perpetrators, who was armed with a "short gun," placed it through the grill in an attempt to shoot Prasad.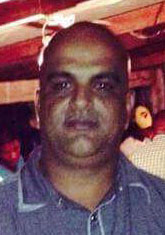 After seeing this, Prasad grabbed the man's hand. However, the perpetrator pulled the trigger and discharged three rounds, two of which hit the businessman.
Commander of B Division, Lyndon Alves yesterday afternoon told Stabroek News, that that the "investigation is continuing". He relayed that no arrest was made as of that point. Asked about the previous attempt on Prasad's life  in March, Alves said, he was made aware of that incident. "We are investigating as a robbery and also if it may be another attempt on the man's life". He stressed, "We're doing a broad investigation".
Around the Web