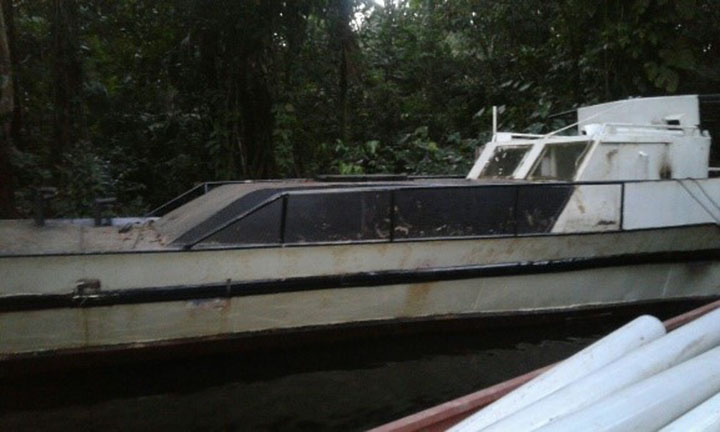 Two men have been held following the discovery of a submersible vessel in a creek at Annbisi River, Port Kaituma, North West District and a team of Joint Services investigators will be deployed to the area today to commence an investigation.
Acting Crime Chief, Paul Williams last night said that following the discovery, lawmen on the ground took control of the vessel which was found on Saturday.  Two forty-year-olds, a Guyanese and a Venezuelan national were apprehended and taken into police custody, according to a police statement.
The vessel is about 25 meters long, 2.7 meters in width and 2.8 meters in depth.
Williams explained that no evidence of illegal drugs was found on the vessel at the time of its discovery but his investigators will carry out a thorough investigation to determine whether or not the vessel was transporting any illegal substance.
Police in a statement yesterday said that lawmen acted on information provided and went to the creek where they found the boat with the Guyanese national, a welder carrying out repairs. The submersible was found on the bank of the creek where it had been brought up.
This is not the first time a submersible has been discovered in the North West District. In August 2014, a narco-submarine was found in the Waini River, North West District.
During a search of one of the creeks branching off from the Waini, the Customs Anti-Narcotic Unit (CANU) had said a blue vessel, later identified as a Self-Propelled Semi-Submersible (SPSS), was discovered about two miles in, along with a camp consisting of three structures for accommodation, a workshop and power generation.
According to CANU, the craft, upon closer inspection, was already fitted with a diesel engine and steering wheel, navigation and other machinery to deem it serviceable.
The illegal vessel was sent to the US for experts to conduct a forensic analysis.
"The… submarine involved people outside of Guyana and those people, some of them have been charged, successfully prosecuted and imprisoned…", former head of CANU James Singh had told Stabroek News in 2016.
Around the Web