The former student who admitted to a relationship with Bishops' High School teacher Coen Jackson, leading to a complaint that has resulted in a criminal investigation, has broken her public silence, saying that she now believes that he preyed on her.
In a Facebook post, published on Sunday, Cris Smith also signals that her relationship with Jackson began while she was still in school, contrary to his claim that he has only been involved with two former students of the school, and only after they left the institution.
Jackson, 38, was accused last week of sexually grooming and preying on students over the course of his more than 15-year teaching career. The abuse allegedly occurred across institutions, with the most recent being the Bishops' High School, where he has taught for the past 11 years. He has denied the allegations.
The matter was handed over to the Guyana Police Force on Friday.
Smith's post described the scarring results of the intimate relationship the two shared. Although the relationship has years ended, the two would maintain contact until just a few months ago.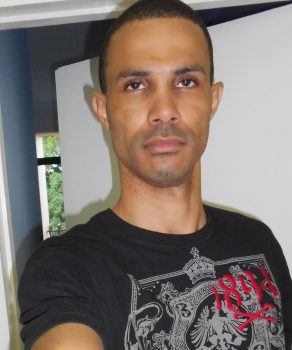 "I have never considered myself a victim of anyone or anything until recently. I accepted responsibility for my choices and actions…As a teenager I suffered from depression. I was an easy target for someone I've now come to recognise as a sexual predator," Smith wrote.
"From the time I was 15, I spent the rest of my years of my life up until now normalising indignity after indignity so much that when it finally ended, I felt barely human to myself. I couldn't tell anyone everything that happened to me because the most relatable thing I could say was that I was betrayed; I was also forbidden to speak about it by the offender…For one year after it ended, I could not sleep properly, I had anxiety attacks that made my chest hurt and I was in pain every day. I could not tell anyone what happened to me because I was ashamed at what I had allowed. I could only function after because I had a few strong friends and family who knew bits and pieces of what was wrong with me that helped me push through…," she stated.
Smith said she eventually forgave Jackson and "cared about him as a friend," while noting that she last spoke with him in early August when he gave her financial advice. The dynamics of their relationship would soon change, however.
"In September I began speaking to my current partner. We became close very quickly and during a point where I was feeling low in spirits. I opened up to him about what I had been through and why I am the way I am now. He asked me if I did not recognise that my first sexual encounter or 'relationship' was nothing more than sexual predation. I did not believe it or did not want to believe it and he was conflicted with what to do with the information now that he knew…," she wrote.
She stated that weeks after, a complaint was made to the school's headmistress to investigate the matter, and a week following that, Jackson would call her five times and enquire as to whether she was the one "pushing the matter."
"…he told me he had admitted what went on between us to the head teacher as he had no choice, he said my partner and him had Facebook quarrels and he was taking it too far, he said there was going to be a hearing and asked if I was going to come out against him. I told him I didn't know… He then told me to listen and emphasized he had only admitted to it happening after I left school," she related.
A formal complaint was made to the Chief Education Officer against Jackson last Monday, and the next day, Jackson, along with his team of lawyers, which included Khan, Siand Dhurjon and Priyanka Sookraj, held a press conference to address the allegations.
It was claimed then by Jackson, that the allegations, which were made against him by Cultural Policy Advisor Ruel Johnson, were rooted in personal grievances between the two, including a past relationship he shared with Johnson's partner.
When contacted by Stabroek News yesterday, Jackson's lawyer, Jerome Khan, said that he respected the young woman's rights, and so would not be commenting on the matter.
Though Khan would not respond to the statement made by the young woman yesterday, he complained of personal attacks being made against his law firm and emphasised that he has no personal interests in the case. He stated that he is simply doing a job he was hired to do. "Despite this, I am being attacked by him (Johnson) on Facebook, on social media, and my law firm is being attacked. I am simply doing a job… if he were to approach me to represent him in whatever way, I would give him the same kind of service to the best of my ability," Khan stated, as he reiterated that the firm's position is in no way personal and he related that the matter is "one of 50 cases" he is working on at present. "This thing has opened the eyes of lawyers as to whether or not they want to represent clients who are accused… if persons do not get legal representation in whatever allegations may be leveled at them, whether it's sexual in nature, whether it's fraud, murder, any criminal matter…then we are left with a society that is going to be ruled by a mob approach. And that mob approach is to accuse someone and then completely ignore and bypass due process and natural justice rights, grab that person who's the accused, take them to the highest tree and lynch them; and this applies to anybody," the lawyer asserted.
"I'm simply doing my job and they're personalizing this thing against the law firm…we have nothing personal against anybody… it's hard to do your work when you cannot deal with things objectively," he added.
Khan said that they would not be making any further comments on the matter.
Around the Web