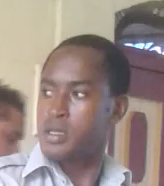 A city magistrate yesterday found motorcyclist Melroy Barnwell guilty of causing the death of his pillion rider in an accident that occurred in June last year.
It was alleged that Barnwell, on June 20, 2016, at Houston Public Road, rode a motorcycle in a manner dangerous to the public, thereby causing the death of Colette Josiah.
Barnwell was found guilty of the crime by trial Magistrate Fabayo Azore after an examination of the evidence of the prosecution's witnesses. The matter has been adjourned until November 30, when sentencing is expected to be passed.
On the day of the accident, Barnwell was proceeding south on the western side of the eastern carriageway of the Houston Public Road.
It was alleged that he was travelling at a fast pace and overtook a long line of traffic when he was intercepted by car, PTT 6421, which was proceeding in the opposite lane. Barnwell attempted to swerve and lost control, causing him to collide with the vehicle.
As a result, both Barnwell and Josiah, the pillion rider on the bike, were flung off the cycle and suffered injuries. They were later rushed to the Georgetown Public Hospital, where Josiah passed away while receiving treatment. A postmortem report indicated that Josiah suffered a fractured spine, a ruptured liver, a ruptured spleen, a fractured hip and fractured ribs.
Barnwell also sustained a broken leg and damage to his hip, which resulted in him having to undergo two surgeries to implant steel.
Barnwell is being represented by attorney Nigel Hughes.
Around the Web