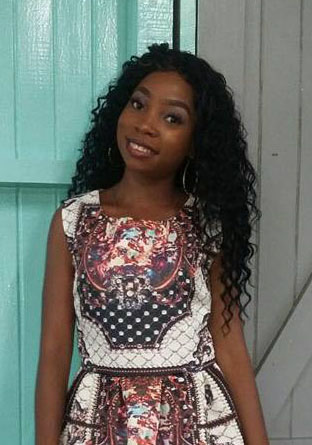 The owner of the car that is suspected to be linked to the death of school teacher Kescia Branche has since returned to the country and has been detained for questioning.
"The good news is that a suspect who had gone overseas has returned and we are doing some further investigative work", Acting Commissioner of Police David Ramnarine yesterday told reporters.
The man, who has been identified as Matthew Munroe, left the country the day after Branche's body was discovered. He had reportedly told the police that he had left the country to attend his niece's 16th birthday and that he had nothing to do with Branche's death. He had also indicated that he is willing to cooperate with the police in an effort to clear his name.
His car, PMM 242, was impounded during the probe.
Branche, 22, a mother of one and a teacher at Richard Ishmael Secondary School, was found on November 5th along Cemetery Road, obliquely opposite the cemetery office, sometime around 5 am.
She succumbed to her injuries on November 7th in the Intensive Care Unit of the Georgetown Public Hospital.
A post-mortem examination revealed that she died as a result of brain haemorrhaging and blunt trauma to the brain.
Branche was seen leaving the Blue Martini nightclub on Upper Lamaha Street in Newtown on November 4 in the company of the two on-duty constables. After leaving the nightclub, the trio had ventured to a barbeque spot on Mandela Avenue. From there, one of the constables said she left with a taxi.
The two police constables and Branche's ex-partner were deemed "persons of interest" in her death and were held for questioning before being released.
A man who was allegedly seen with Branche in the nightclub and another who was accused of last being in contact with her based on phone records were also detained for questioning but were also released.
Crime Chief (ag) Paul Williams had previously told this newspaper that samples were taken from the remains of Branche and the individuals who were detained for questioning and they will soon be sent overseas for DNA testing.
Minister of Public Security, Khemraj Ramjattan yesterday told Stabroek News that overseas services will have to be utilized until the Guyana Forensic Laboratory is fully functional.
He said that plans to have DNA testing up and running by the end of this year no longer seem possible until sometime in the new year. "I really felt that by this year-end we would have been completed but as I have said democracy is a lot of bureaucracy and sometimes you don't get your way because of other important players that indicate there are other things more important that we got to get", he explained.
"First of all because the physical infrastructure is not there for the integrity of samples and if you don't want DNA testing to be mixed up and all of that, then the training of these people who are going to do testing is important and thirdly the hardware, the actual machines that are going to do the various tests", he further explained.
The minister said that once the infrastructural works are completed and the equipment is acquired, they will look for DNA specialists.  "DNA, that's like your PhD but the lesser things like forged documents and counterfeit things and so on they could do right now…narcotics testing and so", he said.
Around the Web