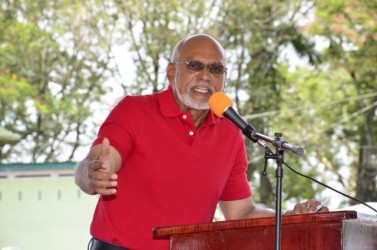 Former President Donald Ramotar has strongly criticised the painting of State House in green while Working People's Alliance (WPA) executive and political analyst David Hinds says that the colouring can have political ramifications for the governing coalition.
"You can argue that painting government buildings green is part of your environmental thrust, but when your party colour is green, it is going to be very difficult to sell that to  a public, half of which is skeptical about your intentions," Hinds told Stabroek News yesterday.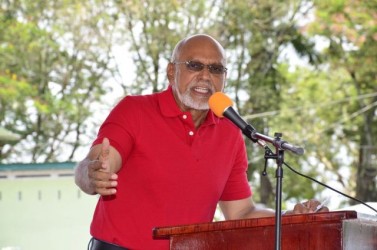 Leader of the Alliance for Change (AFC), Raphael Trotman told this newspaper that, "It has been a matter of personal discussion and it is slated for discussion at our next management meeting." The AFC is in the governing coalition with APNU.
Since last week, when it was first noticed that repairs were being done to State House, which included repainting from white to green, President David Granger and the APNU+AFC government have come in for  much public disapproval over the move.
Adding fuel to the criticism was the fact that the decision was made without reference to the National Trust as is required by law.
The National Trust Act states that failure to first get written consent from the body attracts a minimum penalty of a fine.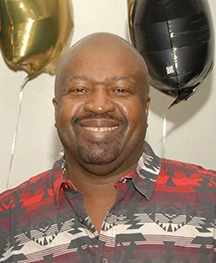 "Any person who disturbs, removes, undermines, defaces or in any manner damages or interferes with any national monument or anything therein or thereupon otherwise than in accordance with the written permission of the National Trust is liable on summary conviction to a fine of one hundred and thirty thousand dollars, and in those proceedings the court may, in addition, order him to pay such sum as the court thinks just for the purpose of repairing or restoring the monument," Section 17 of the National Trust Act states.
The Act makes provision for the preservation of monuments, sites, places and objects of historic interest or national importance.
Nirvana Persaud, the Trust's Chief Executive Officer, had previously stated that the Trust was never officially told about any repairs but because of the close proximity of its offices to State House, it noticed the works.
Persaud had explained that the Trust is supposed to be informed about any plans to repair a heritage site. "We weren't informed at all…," she said before making it clear that the Trust has no problem with the repairs being done. "We welcome any historic property being repaired but recently ….we noticed they changed the colour… major changes, such as the colour and repairs, generally once it involves changes, ought to be communicated to us and discussed so that we are all on the same page. I know the president and us, we are for preservation," she said.
Persaud had informed that she has noticed that more windows on the building have also been replaced with modern ones.
"It is a national monument under the National Trust law, so for that reason it should have been communicated. Maybe it was an oversight," she added.
President Granger has explained that the decision was taken to undertake repairs because of rotting wood and dilapidated windows at State House.
He said that he was not aware that any law was broken but stressed the repairs were necessary.
"I am not aware that a law has been broken… I am not aware that in fact National Trust needs to worry about the present decision to ensure that State House is in good repair… it doesn't leak," Granger said.
When asked about the green paint he said that he had joked that everywhere was moving towards "going green."
"We have heritage buildings all around the country. Some of them are collapsing. I weep when I see the condition of City Hall, St. George's Cathedral and I am very concerned about preserving heritage. That's why I'm repairing State House," Granger told reporters.
He noted that the building was constructed in 1854 and "there is a lot of rot. Some of the windows were falling off and a decision was taken to repair the rotting portions and to repaint it."
Historically
Former President Ramotar yesterday expressed his disappointment at the repainting in green saying that he is sure that if when he undertook to have renovation works when he moved into the building in 2011, and had chosen "red or any colour close to red" to repaint the historically white structure, there would have been protest actions by the then opposition.
"Before we moved there a whole lot of works had to be done. So I stayed at my home [located on the East Coast of Demerara] until that was completed.  The rewiring was done because it is indeed an old building and all of that had to do also. So all of the wires was pulled out and the place rewired. We painted over also and even had a place where my wife had her garden…this was to the tune of millions of dollars. When this government went into power they ripped out all of that [the wires] and now is repainting in green. They even graded down the wife's garden and put concrete over it and is going green? Nothing is being planted there," he said.
"The choice of colour is very significant because it is the same colour also that Office of the President has now been repainted in and is the colour of Granger's own personal home at Pearl on the East Bank of Demerara. The light green and the deep green used for trimmings is the exact colours of the coalition and the APNU. If I had repainted State House any shade of red you and I both know what would have happened. It is not a do for do here but there are some things that should never have to even be considered and given that the president is a historian we all would have expected better. You have to understand the psychology of politics and you would see that it was a very calculated move," he added.
Ramotar said that he will be detailing his feelings on the decision by Granger when he returns to Guyana shortly but wanted it known that he has expressed his disquiet.
WPA executive Hinds believes that the green paint would not have been of much significance if was not the dominant colour of the president's party.  The WPA is a member of governing coalition partner, APNU
"You can argue that painting government buildings green is part of your environmental thrust, but when your party colour is green, it is going to be very difficult to sell that to a public, half of which is skeptical about your intentions," Hinds posited.
"Under normal circumstances, this would not be a big issue. But given our history of merging party, government and state and given the fact that the government has allowed itself to be perceived by many as having authoritarian intent, this issue has become  fair game," he added.
Hinds believes that the government's "greening" thrust would suffer, if they avoid painting government and state buildings in green and said that the coalition should be prepared to deal with the ramifications of such actions.
"Against, that background, they should have avoided painting the buildings green—the colour of the PNC-APNU and the president's political colour. They should have known that in the heightened political climate, it would be turned into a negative political issue," he stressed.
"The government simply does not need another scandal—it's getting too much. As I argued in relation to the GECOM chair issue, the government is not always mindful of the political consequences of its actions. It is political madness to be giving your detractors things to beat you with on a daily basis," Hinds added.
Around the Web