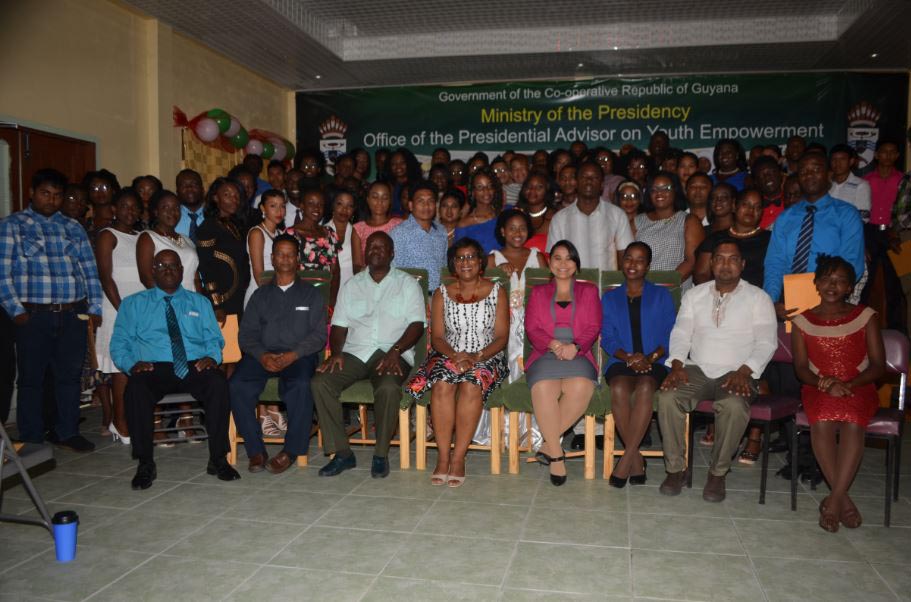 Guyana's youths today are a lot more prepared to take the reins of leadership, Minister of Public Telecommunications Cathy Hughes has said.
Following the graduation of some 74 young professionals and community youth leaders yesterday,  Hughes said that compared to days gone by, today's youths are being offered better opportunities to prepare them for leadership roles, the Department of Public Information (DPI) reported.
The graduates had completed the Youth Leadership Programme overseen by the Office of the Presidential Advisor on Youth Empowerment. 
DPI said that the overall objective of the third and final segment of the Module Two of the leadership programme, was to instruct the young leaders in various empowering mechanisms.
Like module one, which commenced in February 2016, the training was held over two weekends and participants were awarded certificates.
Speaking with DPI yesterday at the Madewini Training Centre,  Hughes said the information laid out in the module is set to build a new generation in Guyana. She said the youths of today are fortunate to have these opportunities, including being able to understand the operation of Guyana's Parliament.
"The first time I went into parliament was actually the first time I was becoming a member of parliament (MP), so I am excited today that young people are far better prepared than we were in my day."
Presidential Advisor on Youth Empowerment Aubrey Norton, who also spoke with DPI, said that the second module began with training in critical thinking and analysis. It also included a component where participants we taught to solve problems and write reports.
Following the completion of the training, the youths will return to their communities to assist and mentor others like themselves, the presidential advisor said.
The training programme comprises a six-part Module One and three-part Module Two.
Norton said government hopes to develop a Module Three, which will specialise in youth work, teaching them how to overcome youth problem and aiding in the creation of youth empowerment.
Around the Web