With many pensioners across the country having to wait for hours in long lines at local post offices to cash their monthly pension vouchers, some are calling for new arrangements, including payments through the bank.
At minutes before noon yesterday, Hyacinth Jules, 81, told Stabroek News that she had been at the Bourda Post Office since 7.30 am and was still waiting to collect her pension. She and many others were in a line at the post office.
"I come here since 7.30 and they give me a number 93 but I still can't get my pension as yet. I am sitting here waiting to go in. Every month we have to wait long hours to collect our pension. It is not easy for us," she lamented.
Jules explained that while she understands that priority is given to persons who are not in the best of health, others are left to wait for hours to receive payments. As a result, she suggested that the authorities should create a priority line for persons who would be given special treatment.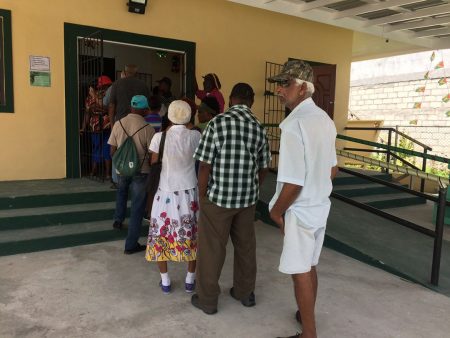 As Stabroek News visited post offices across the city yesterday, Bourda Post Office was the only one with a large crowd. It was explained that many persons would flock the Bourda Post Office since it is in the vicinity of the Bourda Market.
Visits to the La Penitence and Campbellville post offices just around noon showed small crowds but Stabroek News was told that earlier in the morning, between the hours of 8 and 10.30, scores had assembled to collect their pensions.
Verna Cummings, who was at the Campbellville Post Office, said it is "double trouble" when the payment dates for the National Insurance Scheme (NIS) and the Ministry of Social Protection are on the same day. "You see every 1st of the month is the day for the government pension and the first Monday of every month is for NIS but today it clashed so you had a large crowd," she explained.
Cummings added that while the post office administration has taken the initiative to provide seats and tents to ease the long wait, it is not enough for the hundreds who would assemble at the post office on payment days.
A pensioner at the Bourda Post Office told this newspaper that he left the La Penitence Post Office and ventured to Bourda because the crowd was larger. "When I went there you had a man with a number 276 in the line and persons were behind him. I couldn't wait there, so I came here to cash the voucher but it looks like the same thing," he said.
At the post offices, a numbering system and the police officers are used for crowd control. However, persons are still accused of cutting in line.
"We have some bullies here. You would come from early morning before them but they would come in from behind and bore them way through the line," a pensioner said.
Some pensioners have indicated that they would line up at the post office as early as 6.30 am to avoid the long wait to cash their vouchers. They indicated that when the crowd builds up after 8.30 am, the lines tend to move at a "snail's pace."
"Every month is the same wait. You come here (Bourda) or you go to another post office, it is the same wait. I think they should deposit the payments into person's bank accounts to make it easier and less fatiguing on us," Patricia King said as she waited outside.
Another pensioner said he is in support of using the banking system since it would be more convenient to him. "Look, when you come here, you have prepare to spend the entire day. I been here since 10 and I might leave here till around 2.30 because everybody trying to get ahead in the line and trying to get to the cashier," one man said while suggesting that "if they introduce a banking system, maybe we can solve this problem of having to wait in long line."
At the Kitty Post Office, pensioners said they did not have to wait long to cash their vouchers. When Stabroek News visited, about a dozen persons were in the line to cash their vouchers. Some persons who went to the Campbellville Post Office had diverted to Kitty after they were told that the line was shorter.
Around the Web