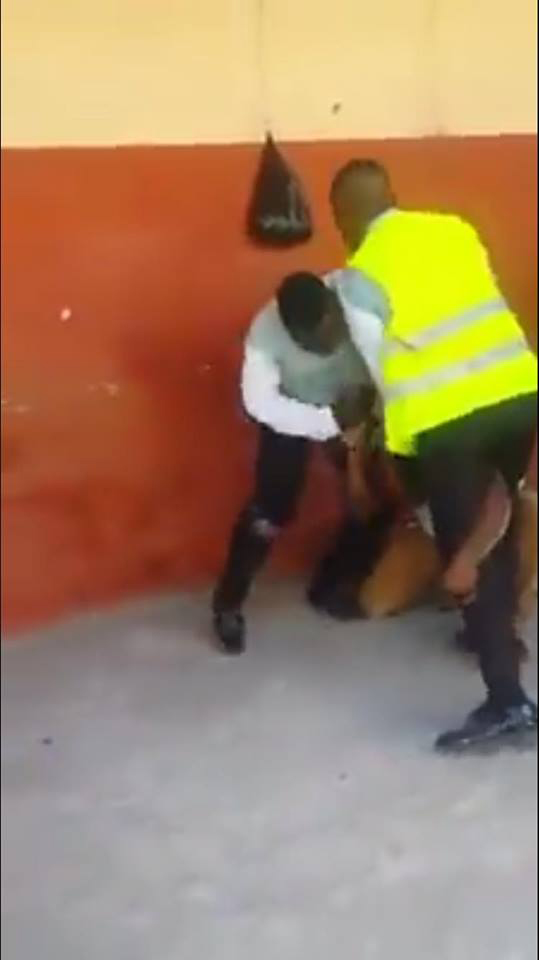 Two police officers attached to the 'A' Division Traffic Department are now under investigation after they were seen assaulting a civilian in a video that is being circulated.
Public Relations Officer of the Guyana Police Force Jairam Ramlakhan, in a statement issued yesterday afternoon, confirmed that the video had been bought to the attention of the force and an investigation has been launched by the Office of Professional Responsibility (OPR).
"The force has been made aware of the video circulating on social media that shows a traffic rank and a civilian being involved in a scuffle and the matter is being investigated," the statement said.
Stabroek News understands that the altercation occurred sometime on Monday in the vicinity of Lombard Street, Georgetown.
The circumstances which led to the scuffle remain unclear.
However, in the almost three-minute-long video, which was recorded by a concerned citizen and shared on Facebook, the civilian can be heard repeatedly asking the police officers what he did that led to him being assaulted but he was provided with no answer.
It appeared as though the civilian, the driver of a minibus, was removed from his vehicle and braced to a concrete wall.
He was then seen using his hands to shield his head, as one officer held him, while the other started to hit him to his head.
"Aye man loose me eh!" the civilian was heard saying as one of the officers asked his colleague "Wam with yuh bai?"
"…I do sum fuh yuh knock meh?" the civilian then asked.
"Ya'll wrong to the man, y'all wrong to the man. Y'all can't do duh," a male onlooker was heard telling the police.
"Boy, stop harass me bai good," the civilian was heard saying as he pointed his fingers to one of the officers, who hit him.
"Bai don't put yuh hand to me face," the officer responded.
At this point, the civilian was seen entering his minibus and he was told by the officers that he needed to go to the station.
However, an argument erupted between the civilian and ranks as he was unable to locate the keys for his minibus.
The civilian reportedly sustained bruises about his face and was bleeding as a result of the scuffle.
Around the Web