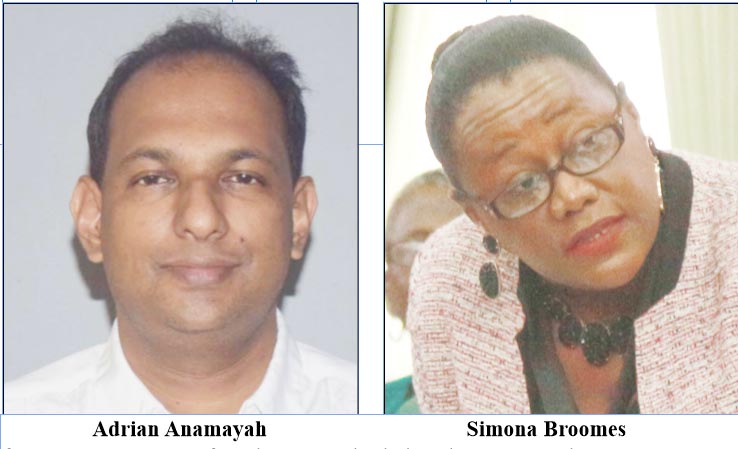 Opposition MP Adrian Anamayah yesterday accused government of dismantling the PPP/C's "legacy of continued economic growth" by putting 2,000 sugar workers on the breadline but this was rejected by Minister within the Ministry of Natural Resources Simona Broomes who said that the workers had no good life under the previous administration.
"This government is completely without compassion and empathy…How else would you describe the coalition's treatment of sugar workers…? Sugar had it problems but it was a signifanct contributor to GDP", he said. Anamayah opened day three of the 2018 budget debates.
He stated that when the PPP/C held office much more was done and there was a good life with a far smaller budget than that which was presented last week Monday.
He said that the PPP/C also left other important sectors such as rice and lumber which are "pillars of our economy" in good shape. "Despite the unfolding tragedy that is the Wales Estate this government intends to proceed with closing Rose Hall, Canje and Skeldon Estate…400 letters were dispatched to the workers at Rose Hall, Canje and more are coming", he said, adding that the 2018 budget makes no provisions for these workers.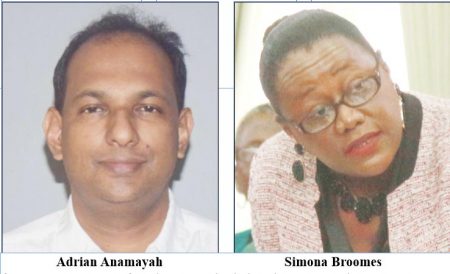 According to Anamayah, government had neglected to inform the nation that 1,750 letters would be issued to the junior staff at Skeldon who will be laid off before the end of this month while another 50 senior staff will also be laid off. He said under the PPP/C government the children of sugar workers had an opportunity to become doctors but now they cannot even afford to send their children to school. "It defies logic what the coalition is trying to do", he said before stressing that there are a lot of lies and rhetoric coming from government.
"If you are gonna close estates at least tell us your plan", he said, adding that these two estates combined contribute billions to Region Six. Shouting above heckles from his colleagues he questioned what employment opportunities have been created for these sugar workers who are now out of a job. He stressed that the answer is not closure but rather increased production.
Broomes who spoke next responded to Anamayah. Noting that she is no expert on sugar, Broomes said that while a junior minister in the Ministry of Social Protec-tion she became aware of instances where junior staff were being taken advantage of by a senior staffer who was the good friend of a former president. "We talking about sugar workers, human beings with a stick fixing boilers, men crying …and you are talking about how many things you did for sugar workers", she railed as she sought to argue that sugar workers were not living good lives under the previous administration.
Anamayah further stated that the good life that is outlined in the 2018 budget is "an imaginary construct" He said that it is "so far removed from reality and out of touch with the needs and aspirations of the common man, it does absolutely nothing to arrest our crumbling economy which is in a free fall".
He said it was hoped that since this is the government's fourth budget that the Finance Minister would "finally get it right". He said that this budget can be added to the list of failed policies and broken promises that epitomize government's track record since it took office in May 2015.
Responding to calls from government MPs for constructive criticism and suggestions of alternative plans from the opposition, he reminded that the PPP/C attempted to do this through a recent motion presented to the House which dealt with measures to mitigate the harshness of the previous budgets and sought to correct what was going wrong in this present one. "But unfortunately that never saw the light of day", he said, adding that Opposition Leader Bharrat Jagdeo also made attempts but was attacked by government MPs.
Untruths
Broomes informed the House that she intends to present facts. "Allow me sir to sweep up some of the untruths that remain in the House", she shouted above a verbal exchange between the two sides.
She said that it is the coalition government that has recognized that there are women operating in the extractive industry. "From 2012 to 2015 where were all the specialists on women issues, where were they? They were like Adam. They were hiding but now thank God for this government…" she said reminding all that she was in the forefront of the Trafficking in Persons (TIP) fight and is qualified to speak on women's issues.
She also lashed out at the opposition MPs about comments they made about Natural Resources Minister Raphael Trotman and Prime Minister Moses Nagamootoo. With regards to the latter, he said that he is no rubber stamp but rather a stamp for change.
Broomes told the House that government has a vision for the mining and the extractive sector. "In this vision we would look to have a sector that will be transparent…have accountability…a level playing field, a sector that looks at gender and …will be free of human trafficking", she said adding that from the provisions in the proposed 2018 budget, government will work with all the stakeholders to put together a policy which will guide the extractive sector.
She said the government inherited a lack of oneness in the sector. "The small miners cried out", she said, adding that government is on "the fixing business so it is this government with a vision that brought about the syndicate and I am proud today to recognize in this House the big change that is taking place".
Broomes stated that to date there are 13 mining syndicates with a total of 339 members and direct employment of over 2000 persons. She added that more than 10, 000 family members will benefit from this initiative as well as those supplying goods and services. "This syndicate I am pleased to announce is up and running well", she said adding that it is because of government's vision that in 2018 all miners could look forward to the good life.
She said that government will continue to pump resources into the sector to ensure that the lives of miners are not lost. She reminded that the budget has an allocation for the improvement of the water supply in mining areas.
Broomes during her presentation indirectly referred to a member as a `goat' which caused thunderous uproar on the opposition side of the House. Speaker Barton Scotland was forced to intervene. "This began yesterday afternoon. Members will decide if they are going to deal with each other in a proper manner as is required in this building or whether they are going to indulge insults", he said.
"Insults are not acceptable on either side of the House. Members are adult enough to know that", he stressed. Opposition MP Juan Edghill attempted to speak but Scotland stopped him in his tracks. "Honourable member please take your seat", Scotland said in a firm tone. Reluctantly Edghill took his seat and made no further attempt to interrupt the Speaker.
Around the Web