In a blistering 30-minute presentation to the National Assembly on Monday, PPP/C Member of Parliament Gillian Burton-Persaud took aim at the proposed government spending for next year, while saying that  "nothing has materialised" from previous budgets despite a "lot of flamboyant words" from ministers.
Declaring the proposed $267.1 billion 2018 budget as full of "bluff and a lot of fluff," Burton-Persaud claimed that Information Communication Technology (ICT) is very important but such programmes are "marking time" in Guyana.
She reminded that in 2015, the APNU+AFC government rebranded the One Laptop Per Family (OLPF) programme as the One Laptop for Teacher Programme but she claimed that two years later only some teachers have received laptops.
"It is still to make it into schools," she said.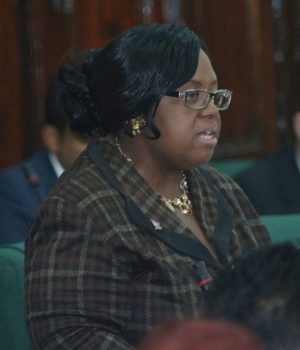 She further claimed that $326 million was earmarked to facilitate the interconnectivity of government agencies but no update has been provided on this project and community hubs were to be created but again the number created is not available. However, early in November, Director of the National Data Management Authority (NDMA) Phillip Walcott had revealed that within regions One, Two, Three, Four, Five, Six, Nine and Ten, there are 51 fully operational ICT hubs in various communities.
Burton continued her arguments by noting government's promise to aid citizens in transcending from poverty to a "good life" with ICT.
Despite this promise, she argued hardships continue since e-commerce, online education and training as well as other promised facilities are impossible to access due to unreliable electricity and internet connectivity.
"It is hard even in these chambers to get connectivity. How can you access the World Wide Web when you can't get continuous electricity or lightning fast internet?" she asked.
"We live in a country where young people are being stifled because ICT is not at their figure tips," she stressed.
Burton-Persaud also singled out the tourism sector and noted that although in 2015 initiatives, such as bird watching, eco-tourism and adventure tourism were proposed, the only birdwatching she sees is the men on the corner of the road with birds in cages. She later questioned how $329 million allocated to fund the implementation of a national tourism policy was spent.
According to Burton-Persaud, community tourism should be explored and government should sponsor tours during school holidays as a means to offer jobs to small contractors while developing the spirit of patriotism in Guyanese children.
She pleaded for the first target of the destination Guyana campaign to be Guyanese.
This country's citizens hear about their tourism product but do not themselves experience it because it is not affordable, she argued. "Let destination Guyana start in Guyana for Guyanese people," she stressed.
Around the Web