Commentator Christopher Ram says that President David Granger has to issue a a public apology to the nation over the Exxon signing bonus and mount an inquiry into the Ministry of Natural Resources.
In a statement today, Ram, the first person to raise publicly the question of a signing bonus, severely criticised Minister of Natural Resources, Raphael Trotman.
A statement by Ram follow: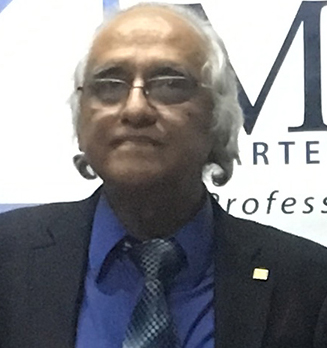 STATEMENT BY CHRISTOPHER RAM ON ExxonMobil's SIGNING BONUS
In an ironic twist, the dam of eighteen months of denial and obfuscation concerning the payment of a Signing Bonus by ExxonMobil to the Government of Guyana broke apart one day before the UN declared International Anti-Corruption Day. The forced admission by the Government is a shocking revelation of a conspiracy to deceive the people of Guyana about billions of dollars, involving a galaxy of ministers, including four of five Granger's famous Quintet plus one, and involving two key ministries and their Ministers. In possible exculpation, one of the Ministers could possibly say that he was equally lied to by his colleagues about the origin and purpose of the money. But such is that damning path to corruption that injects the resource curse virus into the bloodstream of third class politicians managing third world petro countries.
There are immediate and longer term implications of this saga from which Guyana may forever suffer. For the immediate, it means that Article 216 of the Constitution of Guyana has been knowingly violated; that critical information contained in the Estimates of Expenditure now being considered by the National Assembly is inaccurate, incorrect and meaningless; that the 2016 financial statements of the Government and of the Consolidated Fund are for 2016 similarly deficient; that the Report of the Auditor General thereon is inapplicable and that auditing standards applied by his Office requires him to withdraw his report; that the financial statements and the auditor's report of the Bank of Guyana for the year 2016 face the same jeopardy; and that this web of deception has ensnared high level officers of the Ministry of Finance, the Geology and Mines Commission and the Bank of Guyana, including the Chairman of its Audit Committee Mr. Anand Goolsarran.
May I add here that when in Opposition this Government, and very specifically the AFC of which Mr. Trotman is now leader, had repeatedly claimed that Dr. Ashni Singh should be taken before the courts on a criminal charge under the Fiscal Management and Accountability Act. It is as clear as day to me that offences have been committed under section 85 of that Act by more than one person. This is now a criminal matter and the Guyana Police Force should be called in.
It should be clear that as much as one half of the potential public revenues of this country should not be left in the control of Ministers engaged in criminal and other improper conduct. But this Administration has disappointingly shown that such standards of common decency, let alone integrity, do not apply to it and its Ministers. So what about the longer term? Well, in a significant transaction with ExxonMobil – with which they need to operate on an arm's length basis – these same Ministers have shown a willingness to engage in a conspiracy of deception on the people of this country.
Exxon has a monopoly of known and established oil production of Guyana for the foreseeable future. Those Ministers cannot be trusted to engage any person, let alone an oil giant who knows that the persons who engage and are required to oversee its conduct are compromised and that their conduct borders on corruption.
Shamelessly, Mr. Trotman, in seeking to defend his egregious pattern of lies and deception, resorts to patriotism, which Samuel Johnson so famously and aptly described more than two hundred years ago as "the last bastion of the scoundrel." Transactions in foreign currency, the award of contracts by Mr. Trotman, and the payment of money by his Ministry, suggest that Mr. Trotman cannot be trusted even with a single dollar of public funds, and made more egregious by him being a lawyer.
The petroleum resources of this country do not belong to a cabal ensconced in this Administration but to all Guyanese, present and future. Each such Guyanese expects and deserves that its government – whether APNU, PNC or PPP – owes to them honesty, decency and integrity demonstrated in accurate accounting, proper accountability and good governance, not only on World Anti-Corruption Day but each and every day of the year.
if President Granger wants to regain the public trust in his administration, he needs to apologise to the nation for this diabolical act by his Ministers, remedy the violations, call in the Police, and take surgical action. But not before mounting a public Inquiry into all aspects of the administration of the Ministry of Natural Resources, including the negotiation of contracts outside of Guyana, in Grenada and in New York; the process leading up to the signing of an unnecessary, new Petroleum Agreement with Esso Exploration and Production (Guyana) Limited; and all financial transactions in local and foreign currency.