President David Granger yesterday visited the villages of Kimbia and Hururu, located along the Berbice River in Upper Demerara- Berbice (Region Ten) as part of his annual tradition of distributing toys to children and used the opportunity to tell residents that emphasis on education, agriculture and value added production will play a leading role in the transformation of the villages and Region.
At Kimbia, Granger, while addressing residents from surrounding villages, including Calcuni, Maria Henrietta, Sand Hills, Ebini and Hururu at the Kimbia Primary School, said that the Berbice River possesses vast natural resources.  However, according to a Ministry of the Presidency release, he believes that in order for communities to take advantage of those resources, education is key.  The President pointed out that this is the reason he has ensured that school boats have been provided to the children of their communities.
"The children of Guyana must lead us to the future but to do that, we must have an educated nation. The first thing is education. You must stay in school. Every single child must go to school. You must go to school and when we get enough money, we will put more boats in this River. No child should stay at home because they can't get to school, but education must not stop at nursery. It must go on to Primary and Secondary and I want children from Kimbia to be graduating from the University of Guyana. Don't drop out and don't quit and whatever we can do to get you to school we will do that," he said.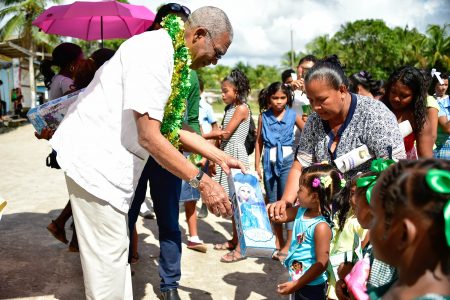 The President said that more innovative approaches, via education, must be taken to further develop Guyana's agricultural potential and this is where investment in education and technology transfer becomes critically important.
The President also committed to exploring the possibility of providing transportation for the movement of local produce to market centres.
According to the release, President Granger called on residents to take a more responsible approach to the protection of the environment, since this is what they rely on for their livelihoods. He added that all Guyanese should be proud of the nation's patrimony and become stewards of what he called 'the land of giants'.
Toshao of Kimbia Village, Ashton Boyle lauded the President's stance on education and youth development. "Our President is especially interested in the future of this country. That is why he is placing emphasis in our youths. President Granger you have done well being the first President to ever visit Kimbia. We are overjoyed to have you here with us and you are always welcomed," he said.
Meanwhile, at Hururu, the President met with workers from the bauxite company, RUSAL Guyana (Russkiy alyuminiy), who used the opportunity to urge him to bring a resolution to ongoing issues related to outstanding payments and tax-free allowances. The Head of State Committed to looking into the matter and working to ensure that workers get what is owed to them, the release said.
More than 300 children from Aruaima, Calcuni, Coomacka, Lonsdale, Wiruni received Christmas gifts at Hururu, while in excess of 100 children at Kimbia got toys as well.
Around the Web