ExxonMobil yesterday confirmed that a signing bonus of US$18M was paid into a Bank of Guyana account last year for the government and it defended its conduct.
"Let me say that signing bonuses are customary and normal in many petroleum agreements , not all but many around the world, as part of the total financial agreement," ExxonMobil Country Manager, Rod Henson, said last evening, when asked by Stabroek News at a lecture at Queen's College .
"In this case, when this agreement was finalised, thorough negotiations were done and executed. We did pay a US$18M signing bonus to the Bank of Guyana, to an account that is owned by the Government of Guyana and designated by the Ministry of Finance, not to any individual but to a government bank account designated by the Ministry of Finance," he added.
It is the first time that the amount was made known publicly.
After months of silence on if a bonus was paid to it, government broke its silence only on Friday following a letter published by Stabroek News which highlighted the transaction.
On the same day of the publication of the letter, Natural Resources Minister Raphael Trotman admitted to the National Assembly that government received the signing bonus, which he had for months refused to confirm.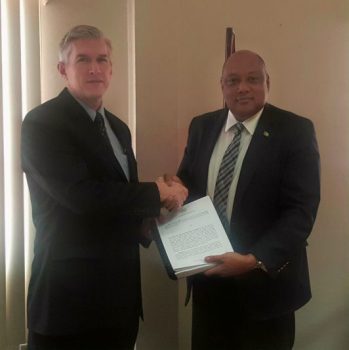 Trotman, who did not disclose the value of the signing bonus, also claimed that the publication of the letter appeared to be organised to cause embarrassment to the government. He said the bonus was intended to be used for legal fees pertaining to the preservation of Guyana's territorial integrity in the potential court case stemming from its border controversy with Venezuela.
Government, through Minister of State Joseph Harmon, had two weeks ago announced, when asked by this newspaper for an update, that the contract and its antecedents would be made public by the end of this month.
Stabroek News was reliably informed that the contract will be made public this week.
This newspaper published a letter, dated September 20, 2016, from Finance Secretary in the Ministry of Finance, Dr Hector Butts to the Bank of Guyana Governor, Dr Gobind Ganga seeking the setting up of an account for the funds from the signing bonus. "I shall be grateful if you would arrange for the under-mentioned Foreign Currency Account to be opened at Bank of Guyana, in order to receive a deposit in the form of a signing bonus to be given by ExxonMobil. This account should not be treated as part of the Bank's reserves. Instead, the proceeds should be held in the currency of the deposit, that is, United States dollars, and invested in secured interest-bearing securities," Butts said in the letter.
Bank of Guyana sources confirmed that US$18M was paid into a government account as was requested and that the money remains there and there was no breaches and "everything was above board pertaining to this money".
ExxonMobil's Governance and Public Relations Officer, Kimberly Brasington, pointed out yesterday that the issue of the government keeping the matter secret should not be addressed with Exxon but with the Government of Guyana. "Address it with the government," she said.
Asked if the company wasn't worried about the company's profile and image and the perception that deals are shrouded in secrecy, she replied that "ExxonMobil as a commercial entity… we can only do our part and we will. You all know we are committed to that and we will do that. That is how we operate. That question, address that question to the Government of Guyana. ExxonMobil would have absolutely followed all of our own laws and regulations that we are held accountable to, no secrecy. All we can do is do the right thing all the time, every time. As Rod said signing bonuses are customary and the disclosure of such is up to the government," she said.
Both she and Henson said that they knew that the issue of the signing bonus has created a lot of interest and that government has spoken on the matter.
However, Henson wants all to know that what the money is used for is not his company's business.
"Let me say also that ExxonMobil, as a commercial entity, we have no role whatsoever in the use or where those funds go, no role whatsoever. We operate with the highest standards of business conduct," he stressed.
'Consistent across the industry'
Henson also said that the company eagerly anticipates Guyana's full acceptance at the Extractive Industries Transparency Initiative (EITI)  so that all like transactions could be made public.
In that vein he said that what goes for one company should be spread across the board and that his company should not be the only one that has to disclose contracts and other transactions.
"We support transparency we are members of EITI and when Guyana becomes a fully compliant EITI country these types of payment will be made public as part of that process. We absolutely support transparency," he posited.
"I will say one more thing, that in terms of transparency though, disclosure of these terms is something that should be consistent across the industry instead of one company. Transparency initiatives, in order to be successful, you know, should protect proprietary and commercial information, should ensure that they don't violate any country's laws , should apply to all companies in the extractive industry," he added.
Brasington echoed Henson's position.
"How we operate around the world we are EITI compliant and are part of that process. Right now that process doesn't exist yet. The part is undertaken and we are fully supportive of that and that is how I think, going forward, this kind of thing for ExxonMobil and all operators in this country (to) become transparent to the people. That is the point of EITI," she asserted.
According to Brasington the company is mulling having the next topic for its outreach be on the topic of transparency and accountability.
Around the Web