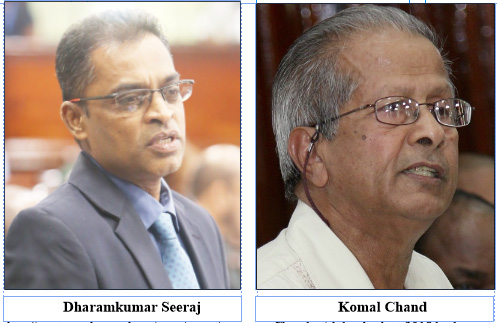 People's Progressive Party/Civic (PPP/C) members on Wednesday called the government's proposed 2018 budget unsympathetic to farmers and workers in the agriculture sector, while saying there is an absence of sufficient measures to cater for their development.
"First of all, we on this side of the House would like to convey our sympathies to the Minister of Agriculture. It is apparent that this sector, one of our fundamental pillars of our economy, is being marginalised year after year," PPP/C member Dharamkumar Seeraj said during his budget debate presentation.
He pointed out that since the APNU+AFC government took office in 2015, there have been significant cuts to the sector.
And while government boasts of its public sector implementation programme, Seeraj said that the implementation rate keeps slipping that as at halfway this year, it had only implemented 29% of slated programmes.
That figure, he suggested, could rise to some 79% and comes at a time when food production, agro-processing and agro-manufacturing form a critical part of everyone's day-to-day lives.
Seeraj posited that although Minister of Finance Winston Jordan said much in his budget speech, no solid measure was noted that would address farmers' needs and concerns.
"It all reeled down to programmes, execution of projects, what was done, what we are going to do… the minister said a lot but little about budgetary measures… implementation without that human face," he stressed.
"One would have thought, recognising the slippage in the production sector, that the Minister of Finance would have put some measure in place to address the plight of thousands of farmers who are finding it extremely difficult to meet their obligations not only with commercial banks but with the government itself," he added.
Pointing to the many difficulties faced by the Mahaica, Mahaicony, Abary-Agricultural Development Authority (MMA-ADA) in collecting fees at the previous rate of $3,500 per acre of land, he questioned what would be the outcome with the amount being raised to $15,000.
"The GRDB [Guyana Rice Development Board] is also now complaining about being unable to collect on credit given out in fertiliser and some of the reasons being given are flooding, reduced productivity… delayed payments and even they are unable to collect on a timely basis from this sector. So where are the real measures to address the real plight of our farming community?" he asked.
"Where is the reaching out of partnership between the government and our citizenry, our farmers, our agro processors? Nothing in measures sir, save and except for one incident that deals with forestry where the CET [Common External Tariff] is now up to 40%. But how is that going to help our lumber producers and all of us? It will be more expensive for consumers," he added while saying locals are now put at a disadvantage to their competitors.
Advising on a solution, he suggested that forest producers be given incentives so as to allow them to compete with the foreign imports, instead of making it more expensive for consumers down the line.
Seeraj said that although it is known that technology was merged with agriculture globally, Guyana was still stuck in an antiquated way of its farmers doing business and that no measures are in budget 2018 to bridge this gap.
"I have not heard anything about the use of Information and Communication Technology [ICT] for farmers, for example, in the agri sector. What kind of incentives will be given to agro processors and what will we do to  reduce the cost of energy…probably the minister is aware that ICT is not going anywhere and that is why it did not form part of his presentation," he declared.
Turning to the sugar sector, Seeraj lamented the closure of the Wales estate and expected closure of others.
Let down
For his part, fellow PPP/C member Komal Chand, who is the head of the largest sugar workers' union, pointed to the plight of all workers countrywide.
"Today, as the workers look hopefully to the government, they are woefully let down. For the people, there is little inspiration that can be drawn from the budget as they see the airy-fairy promise of a 'good life' receding rather than coming closer," he said.
"Why is the government taking such an unsympathetic approach to the plight of the working people, who with their families comprise a major segment of our population?
On the matter of wages, the minister made a lot of hay about the public servant increases. While I am happy that those workers benefitted, Mr Speaker, it is surely insufficient to meet the rising cost of living. But, besides that sad reality, the minister glossed over the fact that the increases were not a product of the collective bargaining process, which the administration in its manifesto committed itself to, and which is sacredly guarded by the workers and the trade union movement. The fact that the minister simply whitewashed the situation speaks volumes. Mr Speaker, clearly, collective bargaining is a meaningless talking point for this government," he added.
Chand said that budget 2018 harbours a dismal future for the ordinary worker. "The minister's tinkering with the income tax regime will certainly not benefit very many of our ordinary workers as they cannot afford to stop working during the year. The administration refers boastfully to the removal of VAT on education, also a welcome move but, let us not forget the determined actions by the people for its removal. Also, we should not forget that VAT is still charged on electricity, water, private medical care, medication, school supplies and many essential and critical items while many of the massive increases in the cost of government services remain in place. Clearly, the pressures borne by our ordinary working people are continuing," Chand said.
Zeroing in on the sugar sector, he told the House that he felt that there had been
disregard, disdain and discrimination against the sector.
"For thousands of workers employed in the industry, it is sad and painful to say that their pay rates have remained unchanged since 2014, while the Minister boastfully says that the public sector minimum wage rose by 50 per cent since July, 2015. Sugar workers are the exception," he said.
"They see their hard earned benefits undermined and the protections they are entitled to being disregarded, which the government remained docile [about] in the face of the massive injustices perpetuated by GuySuCo. Naturally the workers are at a loss as to what is the driving force behind this attitude to them and their plight. They have reminded us, time and again, of the government's 2015 elections campaign when they were promised betterment and improvement, and the security of their jobs and benefits. But, Mr Speaker, like many other promises made by this administration, the sugar workers are being left, literally, almost empty-handed today, jobless by the slick talking would-be leaders," he added.
Chand believes that the interest by many private companies in estates scheduled to be closed is testament that the sugar industry can still be saved and none of the estates require closure.
"Is it that the government is unsure that it can defend convincingly the wrong decisions they are taking? It appears so, given that those inefficient estates are attracting several interests which should tell us that government's decisions require a second, unbiased look. The mere fact that all the estates can be saved and in that process protect thousands of jobs and assure the future of the next generations demand that the Administration undertake such a review," he stressed.
"As we get ready to celebrate in a few days from now, Christmas, thousands of sugar workers are being made redundant and must face a dismal future. It is depressing to imagine the situation in the sugar belt at this time. This year, there will be no smiles, no presents and no goodies for the children of the sugar workers. This is a heart-rending situation and will surely be assessed as a defining feature of this dispensation," he added.
Around the Web