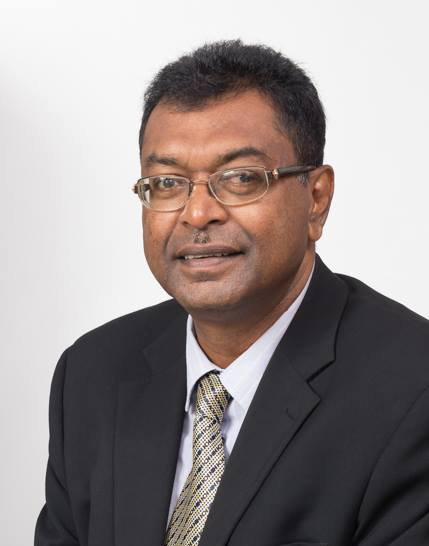 Minister of Public Security Khemraj Ramjattan has confirmed that the Guyana Forensic Science Laboratory will benefit from the investment of close to US$1 million for upgrades that will enable it to conduct DNA testing.
"As the laboratory strives towards the achievement of ISO certification and accreditation in 2018, the Citizens Security [Strengthening Programme] is going to invest close to US$1 million to upgrade the laboratory's infrastructure and equip the laboratory to conduct DNA testing," Ramjattan said during his contribution to the debate of the 2018 national budget last Thursday. 
Ramjattan pointed out that the government has had a number of problems with the lab. "Initially it was only for trace evidence testing, chemistry testing, toxicology, and serology but there was a talk that it would be for DNA. It was not made structurally, and the ventilation… and also security wise for DNA testing," he said as a government member blurted out "they [the PPP/C] never wanted DNA testing."
Ramjattan said he had to plead with the Inter-American Development Bank (IDB) officials to provide additional money for the purpose of including DNA testing. "That is why we are getting the money now in 2018," he said, while noting that the lab benefitted from the support and expertise of an international consultant funded by the IDB this year.
The $1.049 billion lab, which was funded by the IDB, was commissioned on July 14, 2015, at which time it was stated that in addition to conducting a broad range of tests, a section of the sprawling 12, 000-ft complex will be used as a training ground for science students of the University of Guyana.
It was later revealed that there was no provision for DNA testing and this resulted in concerns being expressed.
Observers had said that the former government made a grave error in this regard, particularly since Guyana spends too much money sending samples to overseas labs.
Meanwhile, Ramjattan also noted that the budget makes provisions for almost $1.5 billion to execute infrastructure works at the Mazaruni Prison and another $400 million for the rehabilitation of the Camp Street Prison. "It is important to understand that we are modernising our prison infrastructure. These things were 120 years old… we are doing the things necessary to ensure that indeed we have a modern prison. We are going to ensure that that is fast-tracked for next year," he said.
Responding to heckling from PPP/C members, Ramjattan said that it was the PPP/C administration that neglected the prison system. "120 odd years old, what did you do?" he asked.
The minister also noted that the PPP/C was unable to achieve the establishment of a proper 911 system. Someone from the opposition benches shouted that it was the previous administration that started the initiative.
Ramjattan also said the revised Security Sector Reform Action Plan (SSRAP) will be made public next January and he noted his certainty that most of the recommendations will be implemented.
"The report will come out in January and most [of the recommendations] I am certain will be implemented," Ramjattan said.
Ramjattan also used the occasion to accuse the former PPP/C administration of deliberately rejecting the SSRAP as well as the establishment of a United States Drug Enforcement Agency (DEA) office in Guyana.
He informed that it is because of the coalition's desire for professionalism that efforts have been made to have the shelved reform plan revived. "They [PPP] did not want the £4.5 million. They did not want the expert advice from the British. Just like the DEA; they wanted them out so that they could do their thing. We are now doing it in accordance with international best practices, people who know the work they are here," he stressed.
He also lashed the PPP/C for delaying the arrival of the DEA in Guyana. "…the Americans are very proud of us… We also suffer scrutiny internationally unlike what happened in the previous administration, Mr Speaker. They didn't want…the Drug Enforcement Agency to come into the country. They didn't want international scrutiny," he stressed.
Ramjattan used his 35-minute-long presentation to also highlight this year's achievements for his ministry and what is expected to come in 2018.
Ramjattan indicated that the ministry's security programme in part focuses on at-risk youth, providing infrastructural work to the various sectors of the ministry and enhancing them. He said 428 youths from 20 communities have so far received technical training and another 420 will be trained between now and 2020. He said that an additional number of at-risk youths from regions Three, Four, Five, Six and Ten are being prepped to do work with families to strengthen their resilience and their ability to solve conflicts in 2018.  He said too that there will be about 21 workshops and family-related activities, in addition to literacy training and mentorship with the families of these at-risk youths.
According to the minister, in the new year there will also be small community-based projects, which will provide places for youth, in particular, to become engaged in meaningful activities. He said that the aim is to ensure that the establishment of recreation centres or the enhancement of community grounds.
He also noted that an element of the ministry's agenda focuses on the police's crime prevention and investigation capacity for homicides, burglaries and robberies at the national level.
Ramjattan also informed that attention is being given to boosting the capacity of the Police Complaints Authority and in this regard he has already made a recommendation to Minister of State Joseph Harmon to fill the vacant post of Chairman.
In 2018, he added, a US$280,000 survey to capture data regarding domestic violence victims will be executed. He said too that next year will also see focus being placed on strengthening police/community relations and crime prevention strategies.
Around the Web