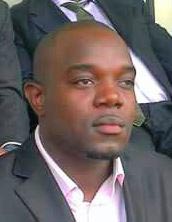 Attorney Eusi Anderson was yesterday fined $100,000 for lying to Justice Simone Morris-Ramlall.
Anderson was cited for contempt after he told the High Court  judge that he had a matter before the Chief Justice at the same time he was expected to be before her.
The infraction was committed on November 30, when he told the judge that he had to be before Chief Justice Roxane George for 9 on December 4. As a result, Justice Morris-Ramlall adjourned the trial she was presiding over to 11 am on that date.
Anderson, however, still showed up late.
In finding Anderson guilty of contempt, the court considered whether his conduct substantially obstructed or interfered with the administration of justice in the trial of Esan Germain.
The judge pointed out that not only did Anderson say the matter was fixed for 9, but he went on to further state that he would likely have been before the Chief Justice for much of that day until about 2 pm.
His expressed intention, Justice Morris-Ramlall said, was to secure an adjournment of the criminal proceedings to December 5.
Apart from the court being able to subsequently verify that the case before the Chief Justice to which Anderson referred had already been heard, it also found out that he was not expected to be before the Chief Justice for as long as he said.
In fact, that matter was fixed for report on the filing of submissions and could not, in the normal course of things, have engaged the Chief Justice for the greater part of that day.
Justice Morris-Ramlall found that the lawyer deliberately lied, and appeared late, with the intention of hindering, or delaying the hearing of Germain's matter.
This, she said, obstructed and interfered with the administration of the said proceedings in that they were unduly delayed for approximately two hours and twenty minutes. In the circumstances, Anderson was found guilty of contempt, and fined $100,000 which he has to pay, on or before December 20.
Around the Web