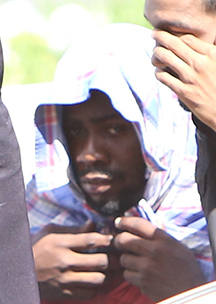 City Magistrate Judy Latchman has given the prosecution more time to present its last witness in the trial of Samuel Adams, who is charged with wounding a BK International Supervisor last December.
Adams' lawyer, Dexter Todd, appealed to Magistrate Latchman last Friday to order the prosecution to close its case, while noting that he was prepared to make a no-case submission.
He explained that Adams is currently unable to find employment and is on "substantial bail." As a result, he said he was seeking to have the case thrown out in order for Adams to be able to collect his bail to be able to provide for his family.
However, after the prosecution explained that the witness was having a difficult time returning to the city from Lethem, Magistrate Latchman adjourned the proceedings until January 12, 2018.
Adams was initially charged with attempting to kill BK International supervisor John Brian, who was shot outside the compound of the Ministry of Finance last December.
However, the charge was withdrawn and Adams was then charged with unlawfully and maliciously wounding Brian, for which he was granted his release on $200,000 bail.
Adams also faces other charges. Adams is charged with discharging a loaded firearm at Christopher Marks on February 3 at Mandela Avenue, with the intent to commit murder. It is also alleged that on the same date and at the same location, in the company of others and armed with a gun, he attempted to rob Ramroop Ramnauth of cash in his possession at the time.
Around the Web