Minister of Foreign Affairs, Carl Greenidge, today,  denied saying that the entire Cabinet approved the deposit of the US$18 million signing bonus from ExxonMobil in an escrow account at Bank of Guyana (BoG).
In fact the Minister said, according to a statement from the Ministry of the Presidency, that the only thing that required discussion and approval by Cabinet was the agreement and approval of the negotiated deal that was made with the oil company.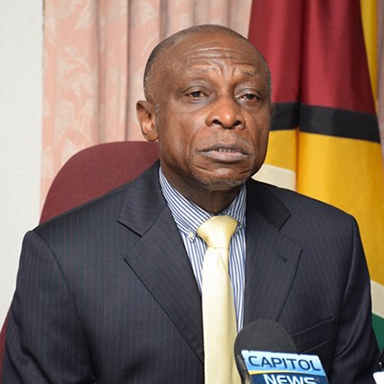 "The story that they tell you is a story arising from the press not understanding what it is that is being said about accounts as separate from the receipt of monies associated with the payment for the contract," he said, adding, "what I said is this, that the proposal to negotiate the contract with Exxon was presented to the Cabinet by the Minister of Natural Resources [Mr. Raphael Trotman] and Cabinet gave him clearance to negotiate. He negotiated and brought it back and that was discussed by Cabinet on June 7. Cabinet having discussed it, approved the terms on which he negotiated, I was very clear and that is it," the Minister said.
Greenidge said in the statement that he also explained that the way monies are processed through the Government accounts depended on how they are to be used. He said that the Foreign Affairs Ministry has financial needs and concerns about its access to resources and as such, recommended to the President that the monies received should be put aside to fund important matters.
Greenidge informed that monies that come in from the Inter-American Development Bank go straight to the Central Bank.
"That's the agreement between the two sides; that's the loan agreement it goes to the Central Bank and it is kept in a deposit account and is deposited there. It is kept in that way so it can audited separately from the Contingency Fund… Central Bank is the Government's banker so the Government's cash are held there. When the Government actually runs out of money, cash, the Central Bank may facilitate with an overdraft but that is why a letter was sent to the Central Bank and to make sure that money is not absorbed by way of an overdraft," he explained, according to the Ministry of the Presidency.